Round of the week
Kian Bystol-Flores, Cambridge. It's not every day that someone shoots a 5-under-par 30 on the back nine of a WIAA boys golf regional … with a double-bogey. Likewise, it's not every day that someone shoots a 4-under 66 to open a highly anticipated WIAA tournament series … with TWO of them. That should say something about how dialed in the Blue Jays sophomore was Tuesday when he led the 2022 WIAA Division 3 state runners-up to a 51-stroke victory at the Williams Bay regional at Delbrook GC in Delavan with an eye-popping 302 score.
"Kian's mental attitude and staying patient on the golf course allowed him to shoot that low score," Cambridge coach Travis Galston wrote in an email interview with Wisconsin.Golf. "He started the first hole with a double-bogey and didn't change his focus or approach to the round where a lot of golfers it would affect them. He has become so much better at such a young age in that department and it's paying off for him now."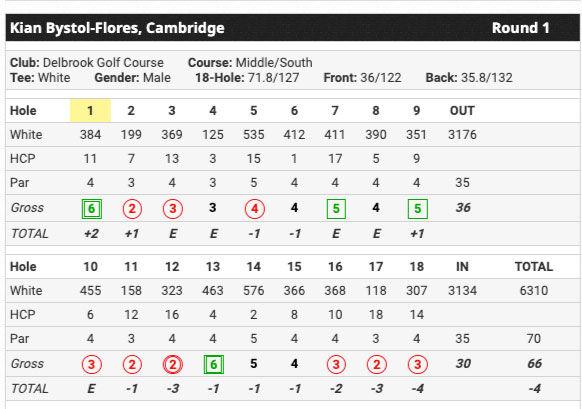 Indeed, Bystol-Flores bounced back from adversity not once, not twice, but three times during his round.
After his opening double-bogey, he birdied three of the next four holes to get to 1-under. Three-putt bogeys on two of the last three holes on the front nine resulted in a 1-over 36 — and an even better tale on the back.
After sticking his approach on the 453-yard, par-4 10th hole to within six inches of the cup, Bystol-Flores added another birdie at No. 11 and then drove the green on the 323-yard 12th hole, making the 15-foot putt for eagle to get to 3-under. He gave both of those shots back on the next hole, where he drove behind a tree, had to chip out sideways and made his second double-bogey, but then bounced back to finish birdie-birdie-birdie and sign for his 66.
"The last three holes were very score-able and he took advantage of them," wrote Galston, whose team — No. 2 in the latest Golf Coaches Association of Wisconsin Division 3 state rankings — heads to the St. Mary's Springs (Fond du Lac) sectional where it will face No. 1 Kohler, No. 4 St. Mary's Springs, No. 5 Elkhart Lake-Glenbeulah and No. 8 Sheboygan Lutheran.
"This week's score should give him confidence going forward and the team confidence. Golf is a game of confidence and keeping the momentum going. We go into a tough sectional so we will need our 'A' game."
Team of the week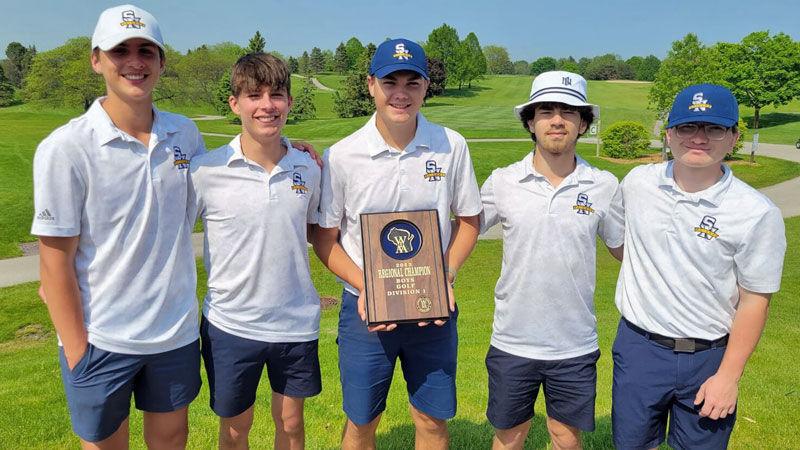 Sheboygan North. Mason Schmidtke did what Mason Schmidtke does. The Marquette-bound senior opened the final leg of his final spin through the WIAA Division 1 tournament series with a 2-under-par 68 Tuesday at the WIAA Division 1 Homestead (Mequon) regional.
But then Roberto Reyes did what perhaps only Golden Raiders coach Ryan Schmitz knows Roberto Reyes can do, shooting 2-over 72 out of the No. 5 position, as Sheboygan North swept the top three spots (Ryder Miller shot a 73) at Mee Kwon Park GC to take the team title with a 290 total.
That was one of eight sub-300 winning regional scores around the state (and the best by six strokes). It was also 27 strokes better than runner-up Homestead on its home course.
"At some point throughout the year, all five of our players have had the low score for our team," Schmitz wrote in an email interview with Wisconsin.Golf. "They are always pushing each other to be better and picking each other up when someone has a bad day. This team has bought in greatly to playing for each other and doing what is best for the team.
"I think the team was excited to play in beautiful weather for one of the first times this season. We have been improving throughout the season and we are trending in the right direction."
They are also poised to spend the rest of the WIAA postseason inching closer to home.
The Golden Raiders will be a heavy favorite Wednesday when they next tee it up at Quit-Qui-Oc GC in Elkhart Lake for the Plymouth sectional. They are eager for another opportunity to play the WIAA state championship on their home course on the Meadow Valleys Course at Blackwolf Run in Kohler, where a year ago Sheboygan North shot the low-round of the tournament in the second round (a 301) to move up four spots into a T-4, but couldn't overcome an opening 324 that had them 17 shots off the pace after 18 holes.
"As a team we certainly were proud of our score and know that we can compete at a high level; it's just a matter of everyone putting it together on the same day," Schmidtke wrote in a text message to Wisconsin.Golf. "For us, I think it's all about staying focused during the round and being in our own little world. I don't think this round changes anything of how we view sectionals, we are still playing golf and anything can happen at any time.
"We are still going to go through our prep work before the round and take everything one shot at a time during the round. That's all we can control and if that's good enough, then it's good enough."
Conference of the week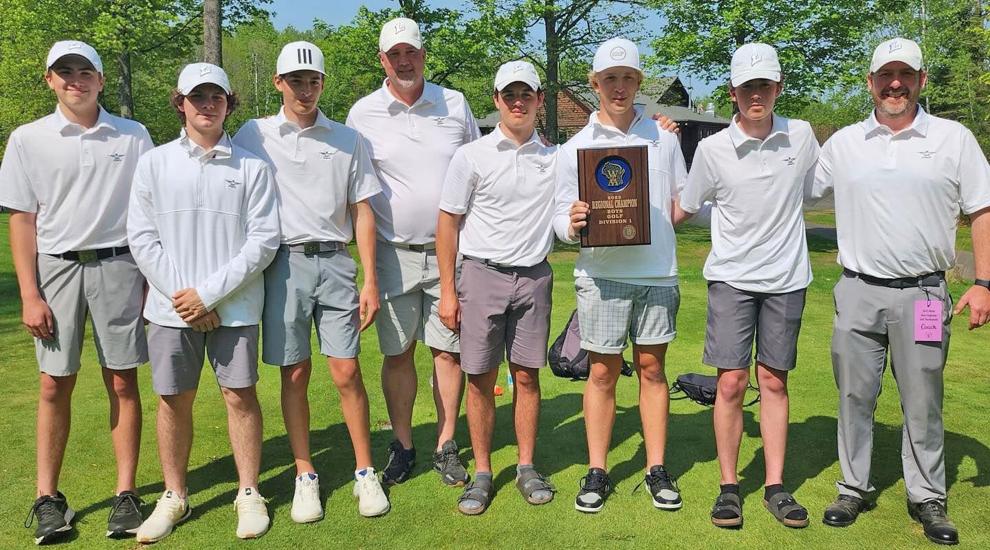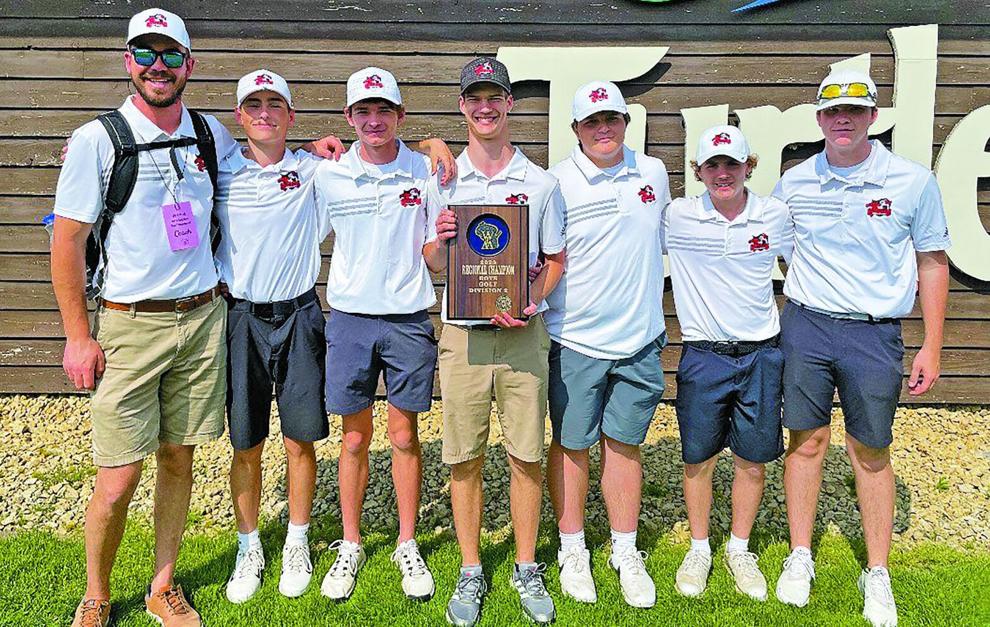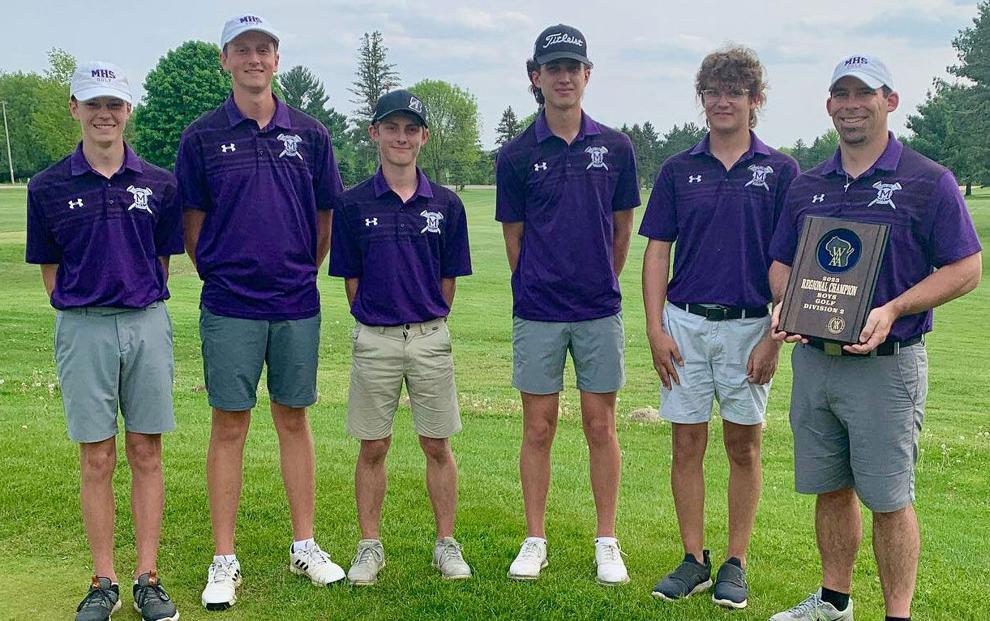 Great Northern Conference. For a conference that didn't play the first of its seven-leg conference tournament series until April 25 and  — after Ol' Man Winter dumped nearly a foot of snow in their neck of the Northwoods four days later — was forced to pack the last five legs into an eight-day span in early May, the Great Northern Conference did its collective best this week to extend the 2023 boys golf season as long as possible.
Six of its seven schools qualified full teams to the sectional (two in Division 1, four in Division 2) — including regional champions Lakeland (Minocqua) at the Division 1 Rhinelander regional and Medford and Mosinee at their respective Division 2 Rice Lake and Amherst regionals. Tomahawk, which finished fifth at the Rice Lake regional, three shots behind GNC rival Northland Pines in the race for the fourth sectional team berth, qualified an individual through the regional.
Also, three GNC golfers collected regional titles. Junior Jett Walters shot 68 at Glacier Woods GC in Iola and won the Division 2 Amherst regional; junior Jack Rubo of Lakeland shot 74 at Northwood GC in Rhinelander and won the Division 1 Rhinelander regional; junior Zachary Hintz of Medford shot 76 at Turtleback GC in Rice Lake and won the Division 2 Rice Lake regional.
Special mention goes to the Greater Metro Conference, which advanced seven of its eight schools to the sectional (including two regional champions); the Classic 8 Conference, which qualified seven of its nine schools (with three champions); and Badger East Conference, which qualified six of its eight schools (including Oregon regional champion DeForest and Fort Atkinson and Milton, which shared the Fort Atkinson regional title).
Comeback of the week
Brody Kowieski, Rhinelander.  The Hodags sophomore bounced back from a 44 on the front nine on his team's home course at Northwood GC in Rhinelander with an even-par on the back nine to shoot 80 and finish T-4 at the WIAA Division 1 Rhinelander regional.
His eight-stroke turnaround was critical as the Hodags — tied with Stevens Point at the turn with matching 172s, one shot ahead of Marshfield, in the scramble for the final two sectional team berths — pulled away to finish third at 339, one shot ahead of Marshfield and 12 better than Stevens Point. Moreover, it marked the second consecutive year Rhinelander made it through the regional — the first time the Hodags have reached the sectional in back-to-back years, according to WIAA records, since 1997.
Scare of the week
Appleton North. The Lightning looked to have comfortably qualified for the Division 1 Notre Dame (Green Bay) sectional at the Appleton West regional Tuesday when it was discovered North senior Rasmus Madsen, who finished third at the WIAA state tournament a year ago, played a wrong ball. He wasn't able to correct the situation in time and was disqualified. 
Instead of counting what the GCAW scoring website showed to be a 73, North was forced to count an 84 (Dane Heindel) along with a 77 (Drew Rudolf), an 80 (freshman No. 5 golfer Jon Huenink) and an 82 (Kyle Schabo). That took the Lightning from a 312 team score and sole possession of third place behind West De Pere (310) and Kimberly (311) to 323 and a tie for third with Appleton East, one stroke ahead of Kaukauna for the final two sectional berths.
"The rest of the team made some big par putts down the stretch to keep us in it," North coach Micky Gilbert wrote in a text message to Wisconsin.Golf, confirming the situation and praising his team, which played its final three holes in 49 strokes with its Nos. 2-5 golfers, for catching East (52) and rallying past Kaukauna (53) to earn a third straight sectional team berth.
Stat of the week
Sub-70 rounds. A year ago, there were just two sub-70 scores during WIAA regional play. This year, there were seven. Sheboygan North's Mason Schmidtke, Madison Memorial's Charlie Erlandson, Sun Prairie East's Tyler Schick and Union Grove's Jacob Brown won regional titles with 68s in Division 1 while Mosinee's Jett Walters and Madison Edgewood's Alex Weiss won regional titles with 68s in Division 2. Kian Bystol-Flores' 66 in Division 3 was low for the week.
Upset of the week
Lena. One year after failing to break 400 and placing third at the Division 3 Iola-Scandinavia regional, Lena placed three golfers in the top 10 at Golden Sands GC in Cecil, shot 332 and won the Division 3 Bonduel regional by 12 strokes over the host Bears. Wildcats junior Drake Dionne led the way for the Marinette & Oconto Conference champions, shooting 78 to share medalist honors with Finn Salm of Gibraltar (Fish Creek) and Jonas Johnson of Oneida Nation.
The biggest upset, however, might have been Roncalli (Manitowoc) finishing third at 348.
At No. 7 in the latest GCAW Division 3 state rankings, the Jets — runners-up to Division 2 Sheboygan Falls in the Eastern Wisconsin — are one of only two schools among the 30 in the sectional ranked in the top 10 (No. 9 Neenah Saint Mary Catholic is the other). However, after its 90-minute van ride to Cecil, Roncalli placed just two golfers in the top 10, shot 348 and — while never in danger of failing to advance — didn't do so with the gusto it showed last season when it won the Elkhart Lake-Glenbeulah regional only to lose to eventual state champion Kohler in a team playoff for the second state berth at the Abundant Life (Madison) sectional. 
Prediction machine
Very much a team player. They say you've got to enter to win and, unfortunately for me, the WIAA didn't appear to post any of the entries from teams that didn't field full teams for the regional. The aging platform that the WIAA uses to administer its regional and sectional levels is a topic for another day, but it significantly handicapped my ability to forecast the individual qualifiers, particularly in Division 1 (33 for 64). So how about we focus on my uncanny ability to tell you which teams would qualify for the sectionals before they do so. This year, I correctly predicted 140 of the 160 teams to survive regional competition (nine more than a year ago), going 59 for 64 in Division 1 (92%), 38 for 48 in Division 2 (79%) and 43 for 48 in Division 3 (89%). While my individual work suffered in Division 1 and 2, I did show a slight increase in Division 3 (31, up two from 2022). 
Crossing the tees
Fourteen of the 16 teams to qualify for the 2022 WIAA Division 1 state tournament made it through the 2023 regionals (only Brookfield East and Ashwaubenon were derailed) — 10 as champions, two as runners-up and two by finishing third. All eight state qualifiers a year ago in Division 2 advanced full teams to the sectional (four as regional champions) while seven of the eight 2022 state qualifiers in Division 3 will return to the sectional (only Lancaster missed) with five of them advancing as regional champions.  …  The average score among the 591 golfers to return a scorecard during regional play in Division 1 was 87.25, down from both 2022 (89.8) and 2021 (95.6). Scores continued to go down among the 544 golfers in Division 2 (93.78 after 95.8 in 2022 and 97.9 in 2021) and among the 499 golfers in Division 3 (103.18 after 103.9 in 2022 and 105.7 in 2021). … Sectional competition begins Tuesday with six sites in Division 1, four in Division 2 and four in Division 3. The remaining sectionals will be Wednesday with two sites in Division 1. The state championship is June 5-6 at Blackwolf Run.