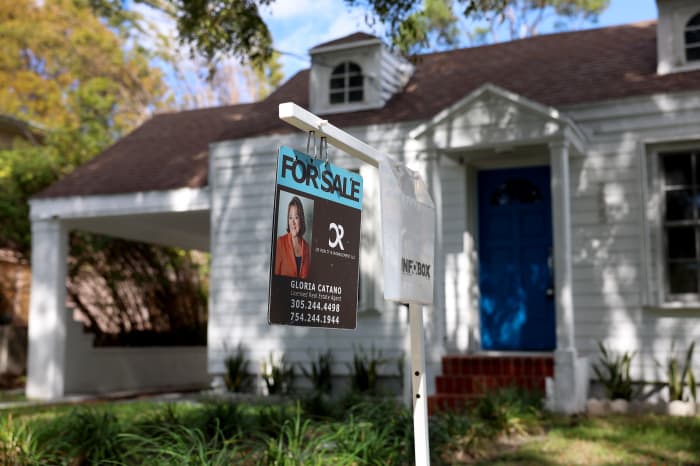 2022 saw higher home prices and higher mortgage rates that sidelined many buyers. So what's in store for spring 2023?  Here are more predictions from pros. 
Prediction 1: Mortgage rates are a wildcard
"Buyers who had been sitting on the sidelines were likely encouraged by mortgage rates that fell from higher than 7% in November to just about 6% in early February. But while it's widely expected that rates will fall this year, mortgage rates shot up in early February, showing that no one can count on a consistent downward trajectory for rates this year. If rates rise in March, buyers could pull back right as many sellers are planning to list their homes," says Jeff Tucker, senior economist at Zillow. See the lowest mortgage rates you can may get now here.
For her part, Nadia Evangelou, NAR senior economist and director of real estate research, says: "With mortgage rates projected to stabilize below 6% in the second half of the year, more Americans will likely become homeowners, boosting the homeownership rate."
And Holden Lewis, home and mortgage expert at NerdWallet, says: "The biggest events of the month will be the release of the consumer price index on March 14 and the Fed's monetary policy meeting that concludes March 22. If the inflation rate doesn't slow significantly, the Fed will maintain its aggressive stance and that could push mortgage rates higher and home prices lower. But if inflation cools, the upward pressure on mortgage rates will ease." See the lowest mortgage rates you can may get now here.
Prediction 2: Prices will remain relatively stable
Heading into March and the official start of spring, experts think it's likely that prices will stabilize. "We're still seeing market volatility as interest rates continue to rise, but I think prices will remain close to stable since we still have a lack of inventory," says Aaron Kirman, founder of AKG Christie's International Real Estate.
Jacob Channel, LendingTree's senior economist, notes that: "Prices will likely remain more or less near where they are in March. Not all real estate markets behave in the exact same way, so there will be some price movement variability depending on where a person lives or is looking to buy, nonetheless, the majority of Americans shouldn't expect to see any drastic price changes in the immediate future." 
That said, we may see prices go up a bit:" Price declines are leveling off as US home values fell just 0.1% from December to January and remain up 6.2% annually. Inventory is still low, adding fuel to the fire and making the market more competitive as buyers compete for limited options so I expect that that will push prices up at least a little in March," says Tucker.
Prediction 3: More people will be looking to buy
'Tis the season for buyers to start house hunting. "Buyer traffic is expected to pick up in March like it always does at this time of year and more sellers will list their homes than in January or February," says Tucker. See the lowest mortgage rates you can may get now here.
Prediction 4: Housing inventory will remain an issue
"A large number of homeowners refinanced in the last couple of years at historically low-interest rates and giving that up and trading it in for one that is a hair away from 7% means people are choosing to stay unless they absolutely have to. Homeowners are literally sheltering in place, hoping for rates to drop and other homeowners to drop their prices so they can afford what they want. The problem is everyone is doing this simultaneously causing the real estate version of a standoff. Unless we see rate relief, we'll see this trend continue in March," says Dave Spears, general manager of brokerage at Houwzer, a real estate and mortgage brokerage firm.
That inventory shortage is one reason prices aren't projected to fall too much. "Inventory is low enough, especially at price points below $400,000, to keep a floor under prices in most markets. What were some of the hottest markets in 2020-2022 are now ice cold, with plunging demand and rising inventory making those areas susceptible to a continued retreat in prices. Rising mortgage rates in February could sting hopes of a spring rebound in home buying activity," says Greg McBride, chief financial analyst at Bankrate.
Prediction 5: Buyers will snap up second homes
"Housing remains a primary investment for the world's most affluent citizens and a safe hedge against inflation," says Mauricio Umansky, CEO of billion dollar brokerage firm The Agency. "The luxury market is strong and there is much wealth to be distributed across markets and generations. I think a lot of buyers are still ready to buy and are collectively waiting for the next move once markets have stabilized. Now buyers can finally purchase a property at more realistic pricing without being completely outbid. We're also seeing interesting trends that I believe will continue like buyers snapping up what would be considered their second homes first, using them as investment properties. With the US dollar remaining strong, buyers will continue looking overseas for their next purchase, from Mexico to Canada and Europe to Asia."
The advice, recommendations or rankings expressed in this article are those of MarketWatch Picks, and have not been reviewed or endorsed by our commercial partners.