Spring ball is always an adjustment period for teams no matter how successful their last season was. They'll try to find what their new identity is among other things after players have come and gone and this it's no different for the Tigers, who've lost starting players to the NFL Draft and in wide receiver Dominic Lovett's case, an All-Southeastern Conference second-team selection, to divisional SEC East foe Georgia.
However, spring ball becomes more of an adjustment period when you add a coaching change. In Missouri's case from 2020-22, it was a new defensive coordinator. This season, the defense appears to have continuity with every defensive coach returning behind defensive coordinator Blake Baker.
Offensively, the Tigers hired Kirby Moore to take over quarterback coaching duties from Bush Hamdan, who took the offensive coordinator job at Boise State, and offensive coordinating duties from head coach Eli Drinkwitz.
Last season, Moore helped Fresno State amass nearly 403 yards of total offense per game (53rd in the FBS), 30.6 points per game (49th) and 6.0 yards per play (42nd) in his lone season as the Bulldogs' offensive coordinator. Drinkwitz is hoping he and his spread offense can produce similar results for the Tigers after they were 82nd in the FBS in total offense with 369.9 yards per game and 86th in scoring at 24.8 points per game.
"We're going to give him the ingredients and he's going to cook the meal, Drinkwitz said during Moore's introductory press conference in January. "We'll figure out how we call the two-by-two formation that we called last year and how we motion and how we shift ー that gives our guys that leg up this spring. How he's teaching the route concepts, and more importantly, as an artist, how he paints the picture that's going to be up to him and his vision for the offense."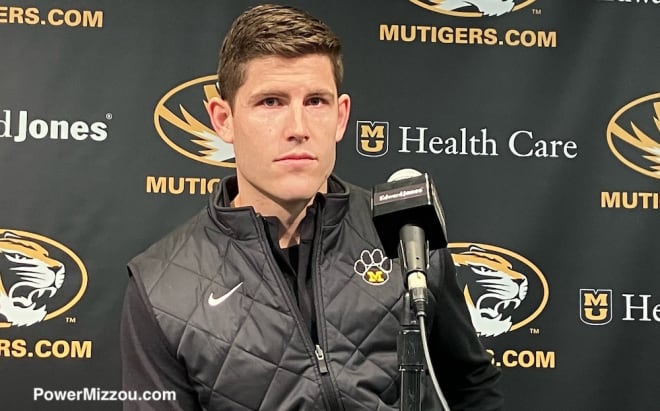 Big year for Luther Burden III and the receiver unit
Last season, Fresno State's pass catchers flourished under Moore, with five players recording over 200 receiving yards, including two that recorded over 800 yards, Jalen Moreno-Cropper and Nikko Remigio. Moreno-Cropper racked up 83 receptions, 1,086 yards (13.1 per) and five touchdowns in 14 starts while Remigio had 74 receptions for 852 yards and six touchdowns in 14 games.
For reference, Lovett was Missouri's first receiver to record more than 800 yards in a season since Emanuel Hall in 2018.
Both Moreno-Cropper and Remigio played in the slot with the former being a good route runner with good short-area quickness and great instincts, while the latter, was better as a deep threat with good ball carrier skills and change of direction.
"Naturally, the slot has been a highly targeted receiver within the offenses I have been a part of," Moore said. "So, whether that's individual, whether that's the matchups, whether it's the first read in terms of the progression 一 there's a number of different reasons why I think he's going to have a big year."
Luckily for the Tigers, they have a player they're high on that is more than capable of playing slot and shares similar traits to Moore's most productive receivers from a season ago in Luther Burden III. Furthermore, unlike Cropper-Moreno and Remigio, Burden may be able to do what they did and more because of some of his physical qualities he possesses.
"Well, when you think about slot receivers there's a certain burst and quickness," Moore said. "He does a good job at the top end of his routes and hand-eye coordination. He makes some tough catches over the middle. He's a bigger slot. Sometimes people play smaller slots, but I would argue if you have a bigger slot he has more catch radius and the quarterback can see him."
In Burden's true freshman season, he recorded 45 receptions for 375 yards and nine total touchdowns (six receiving, two rushing, one punt return).
"I think for Luther the slot has been great," Moore said. "He's done a really good job in terms of defining his routes, being on the same page and getting yards after catch. So, I'm really excited for him."
It's not just Burden who will have the chance to excel.
Players like Mekhi Miller and Ole Miss transfer Dannis Jackson will have a chance to field snaps out of the slot.
Miller played an important role for the team as a true freshman last year as a possession receiver at times when long-time slot receiver Barrett Banister was unable to play. Miller would finish the season with eight receptions for 126 yards.
"One of Mekhi's best abilities is his knowledge and his ability to retain information and apply it," Drinkwitz said. "So, he's able to understand both the outside and inside receiver from a conceptual view which allows him to be more flexible and able to play. Skill set-wise he does a really good job catching the ball and has a knack for catching openings."
Jackson entered the transfer portal before the start of last season, so he hasn't played since 2021 when he recorded 12 receptions for 244 yards and a pair of touchdowns, but Drinkwitz likes his experience and what he could do for the wide receiver group.
"Dannis has got really good speed," Jackson said. "He's played in the SEC, so he knows what the physicality level is and he's going to be a lot of fun to watch."
Jackson isn't the only transfer receiver the staff is excited about. Oklahoma transfer Theo Wease has seemingly impressed the coaching staff in his short time with the team.
"I think Theo has done a nice job," Moore said. "He's got more 一 to his credit 一twitch than I anticipated which is a good thing. He finds ways to separate within the concept, so he's going to have the ability to move around with his experience playing college football and just understanding the concepts. That's a positive for us."
The wide receiver room is looking fairly deep on paper, and the Tigers still have players like Mookie Cooper, Peanut Houston, Chance Luper, Micah Manning and Logan Muckey who could and likely will figure into the offensive plans. Not to mention, four-star signee Joshua Manning and three-star signees Marquis Johnson and Daniel Blood are on the way in the summer.
Figuring the tight ends into the equation
Drinkwitz has made it known that he wants to see more consistency from the tight end group after a 2022 season saw Tyler Stephens, Kibet Chepyator and Ryan Hoerstkamp combine for 10 receptions, 112 yards and two touchdowns.
Moore, who is still just a little more than two months into his stint as the Tigers' offensive coordinator, said he's still learning the players and what they are good at.
"I would say I'm still trying to learn our personnel and their strengths and weaknesses, Moore said. "I don't want to pigeonhole in terms of whether we're going to use this guy that way or this guy the other way. I have been impressed in terms of their willingness to block, hand-eye coordination and getting to the right spots in the pass game."
Tight end PFF Grades in 2022
At Fresno State, Moore primarily deployed Raymond Pauwels as his No. 1 tight end with Tre Watson being No. 2. Pauwels recorded 21 receptions for 185 yards and two touchdowns while Watson hauled in eight passes for 80 yards.
Even getting that production would be a boost at the position which struggled with being consistent in both receiving and run blocking.
"I mentioned this earlier to another person, but there is no greater teacher than experience," Mizzou tight ends coach Erik Link said. "This group coming into last year was really inexperienced. There were very little snaps played at this position. So, I think we gained a lot of experience, both good and bad. So, that's been a great teacher for us. But just the consistency of our play. In all phases."
Pauwels was more of a receiving threat while Watson was better at run blocking, but ideally, Mizzou hopes that it can find one tight end who could be good at both.
"I mean, ideally you'd like to have the diversity within an individual to play multiple tight end positions," Link said. "But, everybody has strengths and weaknesses, so trying to build on those strengths and fortify those weaknesses is really what you're trying to do. So, a guy's skill set 一 maybe he comes in as a more talented receiver as opposed to a blocker. Well, we have to make sure we're continuing to develop those blocking abilities.
"We've got to make sure that we're not asking him to do things that he's not good at yet. So, to answer your question we want to have the diversity and the ability with our guys to be able to do multiple things. But at the end of the day, certain guys have certain skill sets and that's really what we're going to build upon."
In Moore's offense, there does seem to be a few more opportunities for tight ends to get involved in the receiving game, but depending on what he sees out of this tight end unit with Hoerstkamp, Stephens, Gavin McKay, Max Whisner and later four-star signee Brett Norfleet, who will arrive over the summer, will determine how many opportunities they'll get actually get.
Are you a displaced corporate executive or wanting to put your career in your own hands? Or are you an experienced entrepreneur wanting to diversify? Well, Andy Luedecke can help! Andy is a long time business owner, franchise consultant and franchise veteran. Using his expertise, he helps others find franchises that fit their DNA, so to speak. Call Andy, put your life and career in your own hands. His services are 100% free, so what do you have to lose?!! MyPerfectFranchise.net