Latest posts by Georgia Makitalo
(see all)
Sleuthers love their mysteries and want to know when they will see their favorite female sleuths brilliantly solve another mystery. Here is the latest news on three of Acorn TV's top mysteries, Agatha Raisin, My Life Is Murder, and Madame Blanc Mysteries.
When will fans see new seasons?
Has Acorn TV Renewed Agatha Raisin For Season 5?
It has been over a year since Agatha Raisin Season 4 was released. This series that stars Ashley Jensen as the former PR wizard, now Cotswolds sleuth is often compared to a comedic Midsomer Murders. What is happening with Season 5? How soon will fans get to see Aggie and her team of misfit helpers solve crimes in the bucolic English countryside?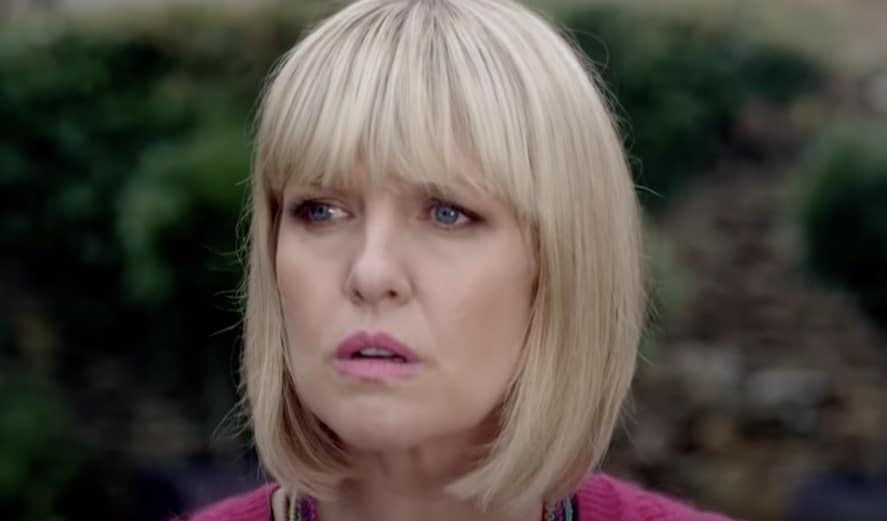 Recently, TV Shows Ace contacted a representative from AMC Networks, the parent company of Acorn TV to see if there is any news about a Season or as the Brits call it, Series 5. They responded, "There's no news at this time."
However, fans of the series may want to be up-to-date with some of the stars of the series. According to The Scotsman, Ashley Jensen is currently in her native Scotland filming Season 8 of Shetland.
I am really looking forward to the new Shetland series coming later this year, i will miss Jimmy Perez(Douglas Henshall) and very happy Tosh (Alison O'Donnell ) is still in the show but i think Ashley Jensen will bring a touch of humour to the series #shetland #ashleyjensen pic.twitter.com/tlb2uehnvj

— vicky-juanita25 (@vickysticky25) April 15, 2023
In addition, Jason Merrells, who portrays Agatha's occasional beau Sir Charles Fraith, has most recently been in Happy Valley. Jamie Glover, who portrays James Lacey, the man that Agatha still loves, has recently starred in Waterloo Road.
Although this series has not been greenlit, yet, this is a popular mystery series and Acorn TV may wait until they can gather the cast and start filming before making any sort of announcement.
Madame Blanc Season 3 Is Greenlit
Sleuthers have quickly become enamored with Sally Lindsay's The Madame Blanc Mysteries on Acorn TV. The Coronation Street alum created this series, co-writes this series with co-star Sue Vincent (Gloria Beaushaw), and stars as Jean White, the antique expert. This quirky and comedic mystery has a huge following.
Taking place in the quaint French village of Sainte Victoire, a town where real and fake antiques are sold, Jean helps the police solve a cornucopia of murders and art thefts. Anyone who loves watching Antiques Roadshow or Pawn Stars will love all of the arty tidbits and history in this series.
This cozy mystery series is filmed in Gozo, part of the islands around Malta. There have been two seasons, will there be a third?
'The Madame Blanc Mysteries' Renewed For Season Three By AMC Networks' Acorn & Channel 5 https://t.co/JTXoyUyGe5 pic.twitter.com/A9kei4Ifvf

— Deadline Hollywood (@DEADLINE) May 23, 2023
On Wednesday, Deadline reported that Acorn TV has greenlit six more episodes, plus a Christmas episode. They have just begun filming. Therefore, the holiday episode will air around Christmas 2023, while the six episodes of The Madame Blanc Mysteries Season 3 will air in 2024.
Expectedly, Sally Lindsay is thrilled. "I am truly humbled by the love for our show and can't wait to give you lots more adventures."
📣 Calling all Lucy Lawless and Renee O'Connor fans! 👯‍♀️

Renee sat down to talk about joining her former Xena castmate Lucy Lawless in the final episode of My Life is Murder. Don't miss the new episode Monday October 25th!@reallucylawless pic.twitter.com/EeeQ5BZceD

— Acorn TV (@AcornTV) October 22, 2021
Will Acorn TV Renew My Life Is Murder For Season 4?
Lastly, Lucy Lawless stars in the fantastic My Life Is Murder. Will Acorn TV renew this mystery series for Season 4? Once again, TV Shows Ace contacted the folks at AMC Networks. Their representative said, "No news to share at this point."
We will share news on My Life Is Murder, and Agatha Raisin once it becomes available. You can now stream all three mystery series on Acorn TV.