#3 Purdue has fallen off the top of the AP poll with losses in their last two road games while Maryland has won 5 of their last 6 without a home loss in the Big Ten.  
#3 Purdue has fallen off the top of the AP poll with two losses in their last three games, at Indiana and at Northwestern in a shocking upset against the Wildcats. Purdue had just one loss on the season and 22 wins heading into Bloomington on February 4th. But Purdue's season goals are still in tact, for now. Purdue is still projected to be a #1 seed in the NCAA Tournament and more importantly, their 25th Big Ten Title quest is still in their hands. Going into Maryland Purdue has a 2 game lead in the conference with both second place teams scheduled to play against each other on Wednesday night.
Maryland jumped out to a hot start to the season, winning their first 8 games before losing at Wisconsin, to Tennessee on a neutral floor, and then UCLA at home in a three game stretch. The UCLA game is the only loss of the season for the Terrapins at home.
For obvious reasons, this game has huge implications on the Big Ten race, and for Purdue, their NCAA Tournament seedings. A second straight loss, and third in four games, will continue to cast doubt on a team that has struggled to make believers out of national pundits and voters at times this season despite having the best resume in the country. It will also mean that if Purdue loses, their lead to the winner of the Northwestern and Indiana game will be just one game with an IU game lurking in the near future.
In the first matchup, Purdue jumped out on Maryland in the first half, taking a 35-21 lead into halftime.
But Maryland pressed into Purdue to start the second half, forcing turnovers and using their size on the perimeter to bother Purdue on the offensive end. Purdue narrowly snuck out a 58-55 win.
Don't Turn the Ball Over
Is officiating a problem in the Big Ten? You bet. How about different balls? Well, Purdue has gone out and bought every ball they're gonna play with this season. Don't think we can blame the last few games on that. How about the freshman wall? Nope. You sign up for college basketball, you don't get to complain about playing college basketball.
What does Matt Painter see as Purdue's issue in the last few games? Turnovers. It didn't really matter what the question was – about offense or defense, officiating or being on the road, Purdue has to take care of the ball. That's gonna help solve their issues on both sides of the ball.
"Just don't turn the basketball over," Painter said quite frankly about what his team has to do.
Then later, when asked how to manage his team after two losses and lifting them back up, he circled back around to what cost them the game in Evanston.
"Like being upset about the officiating with Zach. Well, that didn't lose the game for us, the turnovers did. So keep that in perspective. Even though you're upset about those things and they should have been better. But last time I checked, we've got mirrors at home," Matt Painter went on to say his team had to be better, including himself.
And when asked how to slow down Maryland's lead guard, Jahmir Young?
"I know I'm beating a dead horse here, but don't turn the ball over and let him play in transition," Painter said.
And when Purdue's staff instituted their scouting report to players this week about Maryland, the message was similar.
"We've struggled taking care of the ball the last few games. So really just with their pressure and their press they like to run, just taking care of it. Making sure we're not handing them the ball," Fletcher Loyer said about preparing for Maryland.
Diagnosing the issue has been an easy one. Purdue's not been subtle with their turnover issues in the last three games. Against Indiana they turned the ball over 16 at Bloomington, then 17 times at home against Iowa, and then 16 times at Northwestern.
Purdue turned the ball over 15 times in its first matchup with Maryland at home and won by just 3 points. It will need to be better to get the win on the road. Which will be a tough task. Maryland has the defensive versatility and willingness to throw a bunch of different defensive looks at Purdue. It almost gave them a signature when on Mackey. Expect it to be ramped up even more at home.
That said, officiating
Purdue's not without its history with officiating issues. The hook and hold rule was a direct response to what happened to Purdue's Isaac Haas in a first round NCAA Tournament game in 2018 when the big man was grabbed, held, and then pulled to the ground. His elbow was the first thing to hit the ground and absorbed enough weight to break against the hard wood. It was not the swan song to his career he was hoping for, and that 2018 team fought valiantly to win its next game against Butler to make it to the Sweet 16 but any real title contentions went away without their star big man. They fell to an undersized Texas Tech team in the Sweet 16.
Which is probably why Matt Painter is so frustrated with the lack of awareness of what's going on with officials in Purdue's games recently. While missed calls are an inevitable part of the game, you can watch above and see that Matt Painter is frustrated when those missed calls turn into potential health risks.
In the Northwestern game, you can see two Northwestern players locking arms in front of Zach Edey on a free throw attempt. This is both an illegal strategy and a concern for both those players and whoever else could get entangled between the hold. Painter made it clear, officiating wasn't the difference in the game, but Zach Edey is the one guy on his team that has a legitimate gripe against the whistle. It'll be interesting to monitor if there are any noticeable trends with the whistle on Thursday at Maryland.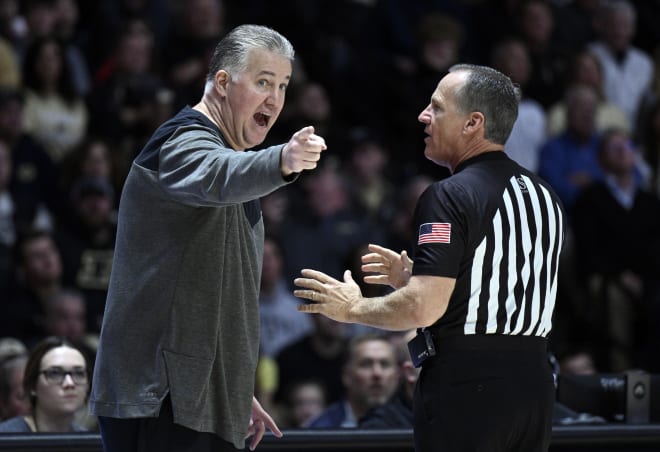 Terrapins Three-Point Shooting
How much does winning or losing a game just come down to knocking down three-point shots? Probably more than is interesting to talk about, but in Maryland's first game against Purdue, the Terrapins were awful from three, making just 3 of 21 of their three-pointers.
In their last loss, at Michigan State, Maryland lost a close game 63-58 where they were just 3 of 22 from three.
Maryland has a combination of players that are capable of going off, big large wings, and a dynamic guard in Jahmir Young.
Hakim Hart is a dangerous wing/forward that's able to score in transition, attack off the dribble, and be a match up nightmare with his speed and length. Donta Scott got hot his sophomore year, but hasn't found his stroke the last two from three, but is a dangerous scorer with length and versatility on offense. Julian Reese has really improved and is shooting almost 64% from the floor.
But Maryland hasn't made 10 three-pointers in a game since their loss at home to UCLA. They do not shoot a lot of threes, and even when they do, they're not very good at it.
Ian Martinez has been their lone bright spot from beyond the arc, coming on of late, and making 38% of his three-pointers.
But Young is shooting at exactly 29%, Scott is at 30%, and Don Carey, who leads the team in three-pointers made and has a history of being a better than 40% three-point shooter continues to struggle from the perimeter, making less than 30% of his 124 attempts.
Which is why everything leads back to Purdue's turnovers. If Purdue can force their tempo, not turn the ball over, and make Maryland play out of the half court, Purdue has the clear edge. Purdue's half court offense relies on the most efficient player in college basketball.
Maryland in the half-court tends to struggle to find good looks and make them when they do. Will the Terrapins be able to use their length and speed to score in transition? That's most likely going to be the deciding factor for this one.