There's 210 pages in the 2022-23 Purdue Men's Basketball Media Guide. The pages are held together with thick black rings that constitute its spine. I counted the rings, thinking, maybe, just maybe on the night that Purdue won its 25th Big Ten Championship outright, that there was some foretelling in the binding, some Nostradamus to it, but the rings get to 25 and then keep going. All the way to 35.
Maybe it is an omen.
When Purdue plays Illinois at home on Sunday, the intro video will play. When Gene Keady comes on, the crowd will wait with anticipation, will grow with sound, and ignite when he says it.
"The home to 25 Big Ten Championships."
When Gene Keady retired as Head Coach of Purdue in 2004-05, 25 Championships seemed a long way off.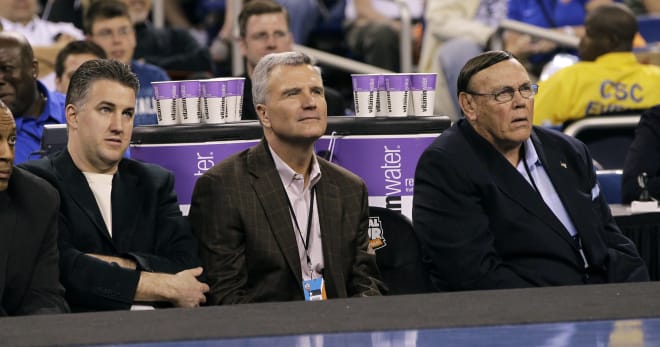 "I wish I could lie to you," Matt Painter says to a room full of reporters. "I asked."
What did he ask? The score of the Illinois-Michigan game, which tilted in Purdue's favor after two overtimes during Purdue's first half at Wisconsin. With Illinois' win, Purdue already had the outright Big Ten Championship wrapped up before they went into half against Wisconsin. Win, lose, or draw, Purdue's 25th Big Ten Title was going to be its own outright.
So for most of a game, Matt Painter coached with a secret.
Wisconsin is not a friendly place to opposing teams. It's certainly not a place with recent fond memories for Matt Painter. Last year, Chucky Hepburn banked in a three that ended up costing Purdue what could have been their 25th Championship last season.
But this year, Purdue and Matt Painter has had something to lean on in a way last year's team couldn't, and that's the 7'4″ best player in the country, Zach Edey. This year when Chucky Hepburn had the ball and a shot at breaking Purdue's heart again, he had to face the unenviable task of trying to shoot over Zach Edey's outstretched hand.
The shot went short and because it was a missed ball, it meant it was Zach Edeys. It was one of 19 rebounds for Edey.
There's a section in the Media Guide that goes through every Purdue season from 1896 to last season. On page 120, there's a list of every win and loss with the score of each game for the 1932 team. It does the same for the entire succession of Ward Lambert teams. In 1933-34, Purdue goes 10-2 in the Big Ten. Their last loss of the season is to Illinois on the road, 27-26. They'll go 9-3 the next year with the highest grossing score being the 50 points Purdue put on Western State in their season opener.
Purdue's basketball at Wisconsin tonight would have almost looked at home at times in the 1930's. The game finished in the sixties, but Purdue hit just 4 more threes than any of the Lambert teams.
But that's not what catches my eye. Not really. It's the 1945-46 season. A struggle for Purdue, 10-11 recover overall, 4-8 in the Big Ten.
But there next to each other – Coach: Ward Lambert, Mel Taube.
They are just pages to me, these names, these figures, but seamlessly from one year to the next, the seasons have added together. From 1896 to now, in some form, in some fashion, with three-point lines and without, from Wooden to Keady to now and Matt Painter, Purdue basketball has existed.
Taube would coach just three solo seasons for the Boilermakers, his final being a 9-13 effort post World War II, and Purdue would go 3-9 in the Big Ten. Ray Eddy would take over next and turn the Boilers around, coaching into the 60's.
Winning is hard. Losing is harder. Transitions from coach to coach don't always mean better or even good.
At times Matt Painter teams struggled, entire classes leaving, but now, now Painter looks like the promised son to a program desperate for divine intervention.
"There's two things you've got to do," Matt Painter is telling that same room of reporters after the game. This time, he's responding to a question about losing, not his losses really, but in general, when a team gets so close and keeps coming up short, over and over again. "You've got to put yourself in position to do something and you gotta do something."
This has in most ways, come to define the last few years of success for Matt Painter. Each year Painter tries to build on the season before. Each year he gives Purdue another chance. Eventually, he will break through.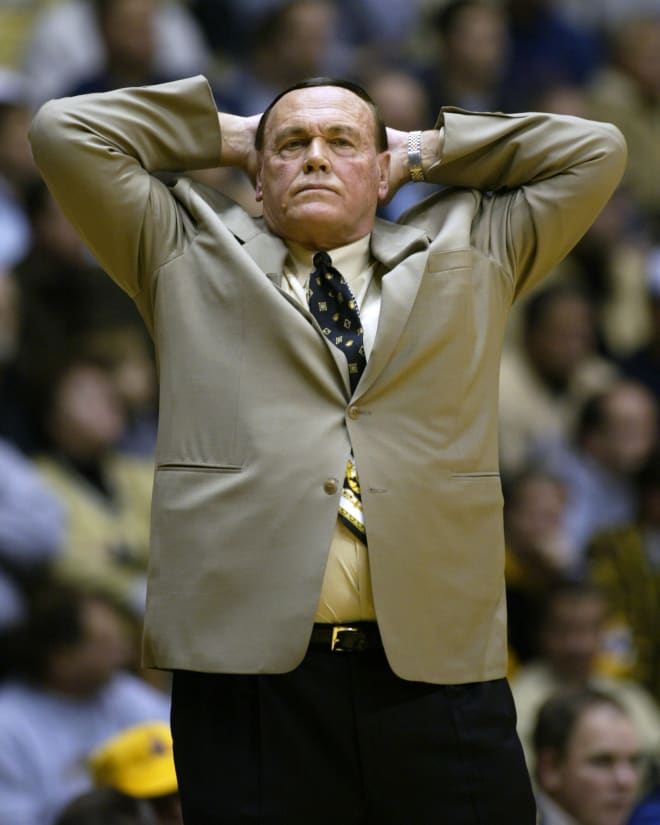 Sports allow us to place ourselves in time.
For many Purdue fans, Gene Keady is as much a basketball coach as he is a time stamp, a marker for the significant moment in their lives. Now, a whole new slew of Boilermakers are finding their time, their joy, and their heartbreak joined with Matt Painter's tenure as Head Coach of his Alma Mater.
It's why I keep coming back to that number. 25. About that video before the game.
Every time, Gene Keady is the peak of Mackey Arena's reaction before a game.
25 doesn't exist without Gene Keady. It doesn't exist without Ray Eddy. It doesn't exist even without the coaches that failed.
It certainly doesn't exist without Matt Painter who has taken Purdue's basketball program to new heights. Purdue has risen in the AP poll. It's succeeded on scoreboards. It's won Big Ten Titles.
Mostly, I think, Painter's won everywhere else. In the locker rooms, in class, during off-season workouts, during recruiting trips, at holiday fundraisers, and on podiums.
"It's such a cynical world," Matt Painter says nearly eleven minutes into his post game press conference. "And for us [coaches], and for where we are, in this position. It's the way it is. If you can't handle it, you shouldn't be in this profession."
"I don't like it for them. I don't like it for Purdue's players. I don't like it for Wisconsin's players. Because they hear it – what are they supposed to do? They grew up with it, man," Painter continues, picking up his phone from the table and gesturing to the room. "I didn't grow up with this. Like it doesn't mean anything. But I'm on it, too, and you hear everything. And it's really hard when you get down to lift up because so many things going on around them. But you try to bring them in as much as possible and make sure no one's getting at each other. And everybody's staying positive."
Once again, Matt Painter is at his best reflecting on the things we lose. This time, it's hypothetical, it's about Wisconsin, and what it's like to be in their shoes because he's been there, just on the wrong side of the score. So have I. So have you.
It's such a cynical world.
So enjoy this one, Purdue fans. Enjoy Matt Painter. Enjoy this team for what it is and not what you think it isn't.
Because this team is the Big Ten Champion. 25 times now.