Purdue had no answer for Jalen Hood-Schifino and the Hoosiers go into Mackey Arena and pull off the season sweep.
The headlines were all about Zach Edey versus Trayce Jackson-Davis, but as soon as the game started, the spotlight moved to true freshman guard Jalen Hood-Schifino. Hood-Schifino had a career-night and decimated the Boilers for 35 points while leading IU to a 79-71 victory.
This meeans IU sweeps Purdue on the season for the first time since 2013, the last time the Hoosiers won in Mackey Arena.
Purdue went into the first half with a 4 points lead, but their were cracks to that lead. Purdue again struggled to make shots from the line and three-point line against IU.
IU was hanging in despite getting a zero from Trayce Jackson-Davis in the first half. In 16 minutes, the potential Big Ten Player of the Year had just 4 rebounds in the second half, but his play making and a hot shooting streak by Trey Galloway helped IU turned a 4 point deficit into a 4 point lead three minutes into the half.
But for Purdue, the problem was IU's freshman guard, Jalen Hood-Schifino, and they never found an answer. For every Zach Edey hook shot, Hood-Schifino had a pull up jumper or floater to respond. Every second look by Purdue couldn't make up for Hood-Schifino's career-best night.
Zach Edey had 26 points and 16 rebounds.
Trayce Jackson-Davis had 10 points, 8 rebounds, and 7 assists.
Trayce Jackson-Davis move over, this is Jalen Hood-Schifino's show.
In the second marquee match-up between the two leading candidates for Big Ten Player of the Year and National Player of the Year, Zach Edey had another dominant first half against IU. Edey scored 13 points and grabbed 8 rebounds while getting to the line 8 times.
Trayce Jackson-Davis finished the first half on the bench with two fouls, but before that, had 16 of his least productive minutes of his season. He had 4 rebounds but didn't score a point, missing all 3 of his shot attempts.
But neither Edey or Jackson-Davis could hold a candle to true freshman Jalen Hood-Schifino's performance. While the big guys came in with the headlines, the IU guard took the spotlight with a 35 point performance where he turned the ball over just 2 times and did his damage on 24 shot attempts.
Stats that don't add up.
Purdue out rebounded Indiana by 16. Purdue's bench outscored IU 14-2. Purdue had an even more overwhelming day on second chance points, getting 25 second chance points to IU's 7. Purdue took 33 free throw attempts compared to 12 for IU.
Purdue was at home.
But IU made shots and Purdue didn't.
Purdue was 5 of 23 from three. They made just 22 of those 33 free throw attempts. They were 22-63 (34.9%) from the field overall.
Behind a career-night from Hood Schifino, IU was just better on offense. IU had four guys score in double digits, shot 31-61 from the field, and made 7 of their 15 three-point attempts.
Trey Galloway provided a big spark to start the second half and had 13 points in the game. Miller Kopp made three three-pointers and scored 13 points.
Trayce Jackson-Davis had one of his quietest games of his career, scoring just 10 points but his play making in the second half helped spark IU's three-point shooting.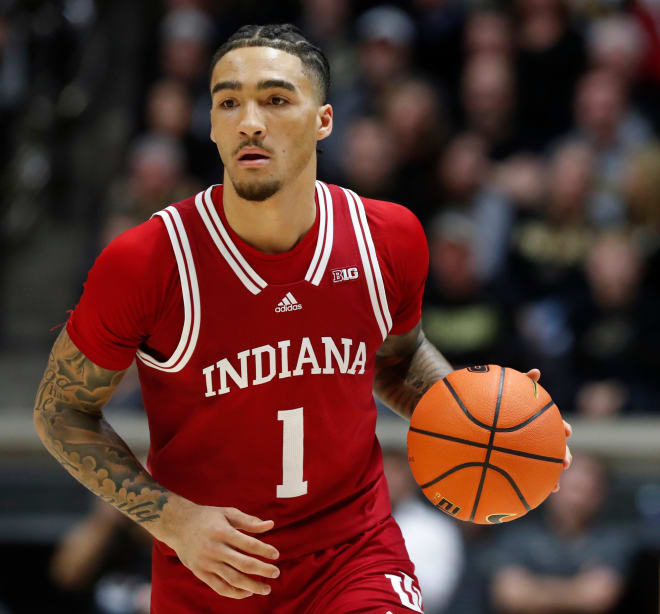 1st Half
With Caleb Furst back healthy from a sickness, and the Trayce Jackson-Davis assignment looming for Purdue's four spot, Furst moved back to the starting lineup. It paid almost immediate dividends.
In a Mackey Arena that was full thirty minutes before tip-off, IU responded a hostile crowd with an early turnover when Jalen Hood-Schifino lost the ball on the game's first possession.
After Illinois knocked off Northwestern earlier this week, this game meant more than just the Purdue-IU rivalry. With a win, Purdue would guarantee at least a tie for the Big Ten Title this year and would need just one further victory to lock in a solo title.
Ethan Morton provided an early hustle play towards that goal, chasing down a missed jump shot and driving to the hoop where he dumped it off to Zach Edey who drew a foul from Race Thompson. Edey would make both free throws to score the first points of the game, giving Purdue a 2-0 with 18:37 in the first half.
Braden Smith would get on the board next possession, driving left, and hitting a high-arcing lay up off glass.
Furst would show off some of that defense early, blocking a shot at the rim, and then Smith would find him at the other end for a lay up to give Purdue a 6-0 start to the game.
Indiana's first points would come from a Jalen Hood-Schifino free throw. He was fouled by Ethan Morton on a floater, missed the first free throw, and made the second.
A Trey Galloway three on IU's next possession would cut Purdue's lead to 6-4.
Fletecher Loyer would respond with a pump and drive from the left wing before raising up and hitting a pull-up jumper from the elbow to give Purdue an 8-4 lead four minutes into the game.
Hood-Schifino would get a lay up at the other end to cut it back to two.
Braden Smith would then drive right, get knocked to the ground, but get rid of the ball from under the basket to an open Ethan Morton in the corner. Morton's three would give Purdue an 11-6 lead.
Then Braden Smith would get another assist, finding Caleb Furst running up the floor in semi-transition for a two-handed dunk that would send Mackey Arena into a frenzy.
Then Hood-Schifino would get back to the line, drawing a foul on Mason Gillis, and knock down both to push the game to 13-8.
Purdue would start to work the ball inside, and Zach Edey would finish a hook shot off glass on the right block.
Hood-Schifino would get a floater to fall on IU's next possession.
Edey would hit a second straight hook shot on the next possession to give Purdue a 17-10 lead.
Miller Kopp would then get going. He'd hit a difficult lay up in transition and then pump fake and hit a three-pointer over Fletcher Loyer to cut the lead to 17-15.
Edey would hit another hook right under the basket to give Purdue a 19-15 lead.
Galloway would then find Jalen Hood-Schifino on a drive a kick for three that'd cut Purdue's lead to just one.
Trey Kaufman-Renn, coming in for Zach Edey, would get an offensive rebound and draw a foul. He'd miss his first and make his second to give Purdue a two point lead.
Brandon Newman would force a steal on a double of Trayce Jackson-Davis and found David Jenkins Jr. up the court.
Jenkins Jr. missed his three but Braden Smith got the rebound and the put back to go up 22-18.
Hood-Schifino, almost the entirety of IU's offense would respond with another mid-range pull-up jumper.
Kaufman-Renn would draw another foul on Purdue's next possession driving baseline and would make both to give Purdue the 24-20 lead with 8:33 left in the first half.
Hood-Schifino would finally miss on a floater, but his miss would go straight to him and he'd make his own put back and drew a foul. His free throw would cut Purdue's lead to just one.
Edey would get a feed from Trey Kaufman-Renn on Purdue's next possession and hit another hook shot from the post.
Loyer's two free throws would extend the Boiler lead to 28-23.
But Hood-Schifino kept responding, getting to the hoop and finishing a lay up to cut the lead to three.
Edey would find Furst at the other end for a little big to big passing, Furst would finish a lay up and give Purdue the 30-25 lead.
IU would keep sticking around, responding with another Hood-Schifino pull-up and then a Miller Kopp three from the left wing that'd tie the game at 30-30 with just less than five minutes in the half.
Smith would be called for a foul on a drive and make both to give Purdue the lead back.
Then Edey would rebound a missed Smith three, get fouled going up, and make one of two free throws to give Purdue a 33-30 lead.
Hood-Schifino continued to dominate for IU, hitting a floater to cut the lead to one.
Edey would grab another offensive rebound and get fouled. He'd make both free throws at the 2:00 mark to give Purdue a 35-32 lead.
Then both teams traded turnovers with Kaleb Banks stepping out of bounds on a drive baseline and Fletcher Loyer getting caught inside and traveling on an attempted shot.
Newman would then be called for a goaltend on Hood-Schifino lay up that would cut Purdue's lead to 35-34.
Purdue would finish the half with a Brandon Newman three on the last possession. Edey would get the ball int he post, an instant double would lead to him kicking it out to the wing for Braden Smith. Smith was open but pumped and passed it to the top of the arc for Newman who knocked down the side-step three to put Purdue up 38-34 at half time.
Second Half
Purdue extended the lead early, with Edey finding Furst for a lay up to give Purdue a 40-34 edge, but Trey Galloway was determined to have a second half.
Trayce Jackson-Davis found Galloway on the wing and Galloway knocked down a three from the wing.
Hood-Schifino kept his hot streak going, pulling up on another mid-range to cut Purdue's lead to just one, 40-39.
Then Smith turned the ball over and Galloway finished the play with a lay up to give IU its first lead of the second half.
His corner 3 on the next possession then gave IU the 44-40 edge and the Hoosiers were starting to take it to Purdue in Mackey Arena.
Race Thompson got open for a lay up on his first basket and IU's lead grew to six.
Loyer responded with a tough floater at the other end for Purdue.
But Jackson-Davis found Miller Kopp open in the opposite corner and the three-pointer gave IU a 49-42 lead with five minutes gone in the second half.
Painter was forced to a call a timeout when Jackson-Davis, still scoreless, found Thompson cutting inside off a double. Newman was there but missed the pass and Thompson got a one-handed dunk and IU had a 51-42 lead.
Fletcher Loyer would get to the hoop and draw a foul, going down hard. The freshman would miss the first free throw and make the second. 51-43 IU lead.
Hood-Schifino could not be denied. Again he got into the middle of the paint and this time hit a floater over Edey's outstretched hand.
IU doubled Edey in the post and Edey kicked it out to the top of the key. Fletcher Loyer knocked down the three and Purdue's crowd got back in it.
Brandon Newman then forced a tie up on Hood-Schifino and would give Purdue the possession.
Edey got a clean look in the lane, but his hook missed. But Newman skied in, grabbing the ball and nearly pulling off a put back dunk, but Trayce Jackson-Davis was whistled for his third foul with just under 12 minutes left in the game.
Newman would make both and cut the IU lead to 5.
But Trayce Jackson-Davis would get free throws on the next possession, his first two points of the game, and it'd give IU a boost.
Kopp would then hit a pull up for IU and Purdue would trail 57-48.
Jackson-Davis would extend the lead to double-figures catching a pass on a roll and finishing at the other side of the rim with his off hands.
Edey would respond with a lefty lay in to cut the game to 59-50.
Jackson-Davis would get a hook to go over Edey and Kaufman-Renn to go right back up 11.
Edey would draw Jackson-Davis's fourth foul and make both free throws to put the game back at 9, 61-52.
But Purdue looked like it had no answer for IU, even with the Hoosiers star on the bench.
Malik Reneau was able to grab an offensive rebound and get a lefty hook to go in to extend IU's lead to 63-52.
Another Hood-Schifino pull up would give the freshman 29, and IU a 13 point lead.
Purdue would try to mount a comeback, and with shots not falling, they had to do it at the free throw lines.
Edey got an offensive rebound and was fouled on the put back. He made both to cut the game to 65-54.
Gillis would then get fouled and make the first and miss the second but would grab his own miss. That'd lead to two more Edey free throws. He'd make just one, but it was enough to cut IU's lead to 65-56.
Brandon Newman was able to spark Purdue again, forcing a steal and then a foul at mid-court. Newman would miss his first free throw though with less than seven minutes in the game. He'd then go long on his second and Purdue would stay down 9.
Edey would block a drive but Jackson-Davis would get a put back off the miss.
Another Edey hook would cut the game to 67-58, but Purdue had no answer for Hood-Schifino who responded with another mid-range pull up.
Purdue's offensive rebounding tried to overcome poor shooting, with Edey grabbing a board and getting the put back dunk to cut it to 9, but another Hood-Schifino floater put IU back up 11.
Gillis would then make a put back hook shot after a series of offensive rebounds, but Smith would be forced into a bad shot at the rim the next possession after finally getting a stop and Jackson-Davis was able to get a dunk in transition off the miss.
IU had a 73-62 lead at this point and Purdue had just 2:54 to try and mount an improbably looking comeback.
Loyer would draw a foul on a drive but make just one of two free throws and then miss a three in semi-transition that would pretty much wrap it up for any hope that Purdue was going to be able to threaten IU late.
The Big Ten Title would have to wait for another day.
Boiler Upload is now a partner with Seatgeek. Use Discount code is BOILERUPLOAD to get $20 off your first purchase at Seatgeek.com