SACRAMENTO, CA — After Mizzou's 76-65 win over Utah State in the first round of the NCAA tournament on Thursday, Dennis Gates, Kobe Brown and D'Moi Hodge met with the media. Below is a full transcript of what the Tigers had to say.
DENNIS GATES: Well, I'm extremely proud of our ball team. I think we did a tremendous job in our preparation, scouting report, but also research. Ever since we found out we would be playing Utah State, I think our studying behind the scenes from the staff, our coaches, but also our players played a part in our performance. There's one thing in life that you sometimes have to be prepared for, and that's the unpredictable. Nobody in the country, nobody in the basket world, expected first of all us to be here and secondly for Utah State to go 0-11 in the first half or make the amount of threes they made. The only people that believed we could do what we did was the guys in our locker room, obviously, our crowd, our fan base, those that have been by our side from day one. I'm extremely proud of the results. Not complacent at all by any stretch of the imagination. Our job is to be prepared to study our next opponent.
Q. Coach, just wanted to talk about the second half. Utah went up I believe 49-47. Player next to you, Kobe Brown, I think he scored —
DENNIS GATES: 12. He scored 12.
Q. You know exactly where I'm going with this. Can you talk about that performance.
DENNIS GATES: I think our philosophy is not blinking. We didn't blink no matter what the crowd noise was, no matter what the response or the plays that Utah State made. They're a good team. They were supposed to go on a run. We're a good team as well and we were supposed to respond. Our guys stepped up and responded. Kobe Brown, I want to believe he hit 12 points out of the 20. Then D'Moi Hodge I think hit the next eight. The big picture is this: our team is balance, and I'm proud of the way we respond in adverse situations.
Q. Could you talk about Tre Gomillion's impact on the bench, whether or not he may have coaches in his future?
DENNIS GATES: He's Coach Gomillion to you. I said all along, he's the first kid I signed as a head coach. His disposition, IQ is impactful to a locker room. Sort of reminds me of myself when I was in college. I was fortunate enough to play for Ben Braun at Cal. My question to him was, Are you against freshmen becoming captains? I didn't ask about playing time, how many minutes, how many shots, I asked about leadership. Tre Gomillion is the same way. It's hard for him not to be out there. Without a doubt he wants to be side by side with his teammates. I had to have a real conversation with him in the locker room. I said, If you're not playing, I need you involved, as involved as my staff members. You can see him walking up to me making suggestions. That's what I anticipate and that's what I expect of him.
Q. Can you tell us about Kobe Brown for those of us who don't know him, what kind of player, good scholar, everything that makes him pop?
DENNIS GATES: Well, what he means to us is that: he is our SEC Player of the Year, not just Student-Athlete of the Year. He's our First Team All-American, AP Poll, whatever poll you want to make up, he's that for us. Sometimes you don't have to wait to give people their accolades when someone else's opinion outside the circle is out there and, first and foremost, not parallel to what we think. He's a kid that is humble, a kid that is very unselfish, a kid that has a high level of empathy, but also a young man who knows what he wants in life. Comes from a great, great family. But more importantly, he plays the game the right way. Hopefully what I know that teams in the NBA will know, but hopefully they'll understand how impactful he is. He's our MVP. I can tell you that. Ultimately when he started making some shots in that second half, he immediately made eye contact. He said he's here. I said, Yes, you are. We can see (laughter).
Q. Kobe, I'm curious, when Utah State made some runs, you look at the sideline, Coach Gates is calm and composed as can be, how much that settles the team I guess when there's anxiety and tension in the game, to have a coach who is like that?
KOBE BROWN: Definitely. We talk about this all the time. Everyone on the team asks this all the time. When a team goes on a two-point run, did 10-point run, 20-point run, he's the same way. They hit a three, we get a timeout, he's standing there with his hands behind his back. No reason for us to be yelling and screaming at each other. He's not doing that. We get there. He was like, Everybody just everybody calm down, power clap, reset. It's big for the team, and I'm glad he's that way.
Q. D'Moi, Coach mentioned you held them 0-11 in the first half. Talk about the approach that went into defense in this game.
D'MOI HODGE: Our approach was to pressure full court. We know what they wanted. They wanted jump shots. We tried to force them to the basket to make them make two, make the big man score. We put it out to the shooters. They didn't want the big men to score, they wanted us to shoot. Make them take tough threes, force them into bad shots. That helped us in the long run.
DENNIS GATES: 26 of their 31 points in the first half were points in the paint. You got to understand at that point that's not how they want to score, that's not how they want the entire game to go. Our guys commend them. It's hard to give up layups or different things, but they stayed disciplined and they did not over-rotate, which is one of the game plans we saw being used throughout their conference. I was able to watch each and every game. Sometimes you don't want to flood your guys with every game of a season that a team has played, but you have to get what those main points are out to them. We couldn't have emphasized it enough. They watched film themselves and they were able to see it.
Q. Coach, beneath that calm demeanor, what's really going on inside of you? Have you had a chance to celebrate in the locker room? If not, will you?
DENNIS GATES: So for me, I played the game a certain way. I was wired tight. I played as hard as I can. I would never coach how I played. But as a coach, what I've learned is the level of cerebral emotional intelligence that one has to have, but also the impact that you have with young people who do nothing but illustrate their life through what they see on Instagram, Twitter, everything else. I want to exude something in sight, in plain sight, when they first take a glance. They're always watching. I want them to see a calming force about me, I want them to see confidence, not arrogance. I want them to see humility. I want them to see grace. I want them to see forgiveness. I want them to see our A core values of friendship, love, accountability, trust, discipline, unselfishness, enthusiasm, and toughness. I want them to see that. I also want my words to reflect it. You never know what can crush a young player's dreams or their aspirations. You know one thing: there's nothing better than a player having confidence. That's what I want to give 'em. The second part of your question was what again? Remind me.
Q. Did you celebrate in the locker room with the guys? If not, will you?
DENNIS GATES: It's emotional for me. I actually cried. I'll be honest with you. My college coach, some of my teammates were here. My family's here. For me, it was emotional. More importantly, I think the first thing I said was, Where's the radio? Put the song on. The song was "California Love" by Tupac. That's what we were listening to. Celebration, no such thing. We got to prepare for the next opponent.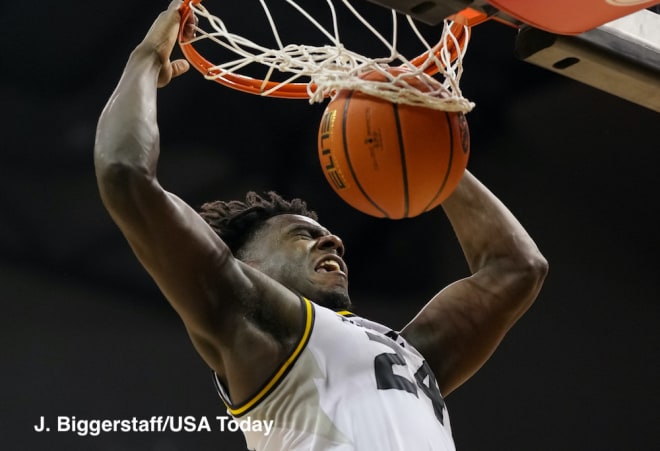 Q. Kobe, Coach just talked about you guys remaining calm, not flinching in key moments. Utah State got the technical late. You come down, miss two free throws. Could have been an emotional swing right there. You came back and got a three. Is that a perfect example of what Dennis is talking about?
KOBE BROWN: Yes, sir, definitely. I would say Nick — the whole team — or before chose Nick to shoot those free throws because we believed in him. He didn't make the two, but we all gave him daps right after. We know he'll normally make those. Yeah, like we said, Coach always said we try not to blink. We don't blink when things get rough. We knew those two free throws were big, that could hope with our momentum. When he missed them, we just had to show him love, or as Coach says, give him grace. It just allowed us to keep going and move forward from there.
Q. Coach, I wanted to close the loop on the captaincy. Ben Braun said he couldn't remember. He said he did captains by game. Were you a captain as a freshman in any game?
DENNIS GATES: I wasn't waiting for Ben Braun to tell me I was. I can tell you that. I was coaching and bossing my teammates around. That gentleman right there, Dr. Joe Carr, was front row seat. He's our sports psychologist. At the age of 18 I told him, Doc, when I become a head coach, I want you to work with my team. He's been there every step of the way working with our team behind the scenes. I didn't wait for Ben Braun to tell me or anoint me or name me captain. It was one of those things where my actions spoke louder than any title, but eventually the seniors, the juniors and the sophomores knew what cloth I was cut from. I didn't panic. I didn't blink. I led. I played hard. I gave my very best at all times. That's all I ask of these guys. Ben Braun gave me the opportunity to do just that. Sometimes it's not what a coach tells you, it's what a coach tells you not to do. He didn't tell me not to lead. He didn't tell me that I was not a captain. I asked the question, and he was impressed. That right there speaks for itself. My teammates respected me, no matter what year they were in school. We still joke about different situations now. Remember when… There's so many 'remember whens' when it comes down to that. Ultimately I was that guy that put the team on the line and said, Guys, we're turning the ball over too much, let's run some suicides for this. Or I'll kick coaches out of debrief or prep and say, Hey, Coaches, we got it, let us do it. The guys responded to it. Sometimes young people wait for adults to tell them what to do. Sometimes you got to understand you got to take the chance, you got to be courageous enough. I was just doing what my coaches and educators back home said I was good at, and that's being a leader, being someone that's not a follower. Ultimately that's what paved the road into me being a head coach now.
Q. Kobe, was that a catalyst when Dan Akin got those back-to-back dunks? Did that get you fired up?
KOBE BROWN: You know, I wouldn't say 'fired up'. Immediately after he got those two dunks, after each one I was just telling my team, It's just two points. Dunk the ball, two points. We got to get back, keep playing. Like getting two regular layups to us. Like he said, we don't blink. We felt them getting the momentum, but we couldn't show that. If we would have showed that, things would have went a lot different, so.
Stay up to date on all the Mizzou news with your premium subscription
Talk about this story and more in The Tigers' Lair
Make sure you're caught up on all the Tiger news and headlines
Subscribe to our YouTube Channel for video and live streaming coverage
Everyone on here already has insurance (or they should). Everyone on here also cheers for the Tigers (or they should). In college sports the hot button issue is NIL. A school can no longer compete the way they did just a few short years ago without a robust NIL collective. In our economy, the hot button issue is inflation. Here's your opportunity to see about saving money on something that the state requires you to have on your car and your lender requires you to have on your house. Oh and by the way, just a quote from James's office will get a donation on your behalf to PowerMizzou's fund with Every True Tiger Foundation, Mizzou's preferred NIL collective. Blink if you like saving money. Blink twice if you want to do everything you can to position your favorite college program to be as competitive in the SEC as possible. Give James's office a call at 314-961-4800 or get a quote online at carltoninsurance.net.
"If your insurance costs a leg and an arm, call James Carlton State Farm."