It was a day years in the making for honoring the Florida State legacy of Buster Posey.
The former FSU baseball star and three-time World Series Champion with the San Francisco Giants made a rare appearance back at his alma mater Saturday. He got to witness, along with his wife, Kristen, and four children, as his No. 8 became the fourth FSU jersey retired in the outfield at Dick Howser Stadium.
And he got to do it with his FSU head coach, Mike Martin Sr., who retired after the 2019 season, in attendance to honor him.
"It's a tremendous honor. It's hard to put it into words…" Posey said. "If you would have told me as a 16-, 17-year old that one day I would have my jersey up there on the wall, I would have laughed at you.
"I'll say this too. I know the field is named after him, but I think so highly of 11 that it almost doesn't feel right for my jersey to be there next to his. I feel like his should stand alone."
By all accounts, that may be the perfect summation of Posey. He's one of the best players in FSU baseball – and possibly even college baseball – history. His final season at FSU in 2008, he hit .463 with 26 home runs and 93 runs batted in, winning the college baseball Triple Crown and the Golden Spikes Trophy.
As a pro, he won three World Series rings, two NL Comeback Player of the Year awards and was a seven-time All Star in 12 years with the Giants before retiring in November of 2021.
And yet, on a day built to honor him, he was pushing the praise elsewhere.
"There are people that have probably had similar careers, but I don't know that there are people that have carried themselves the way he carried himself here and clearly beyond," FSU head coach Link Jarrett said. "He's down to earth and we're very appreciative that he would spend this time coming back to allow us to have a day for him…
"His being down to earth and humble, just like he was when he was here, is what stands out to me as much as any of the accolades. He's a world-class guy."
Posey arrived at FSU as a highly-touted shortstop out of Leesburg, Ga. in 2006. He played there his first season before moving to the catcher spot ahead of the 2007 season when FSU brought in Mark Hallberg, who would go on to be Posey's third-base coach in San Francisco, as a transfer shortstop.
That wound up being a perfect move for Posey, who took to the position change exceptionally well, going fifth overall in the 2008 MLB Draft and becoming one of the best MLB catchers in recent history and a surefire Hall of Famer once eligible.
Posey credits a great deal of this to Martin, who was the biggest reason behind his choice to play college ball at FSU.
"I was hooked by the atmosphere, the intensity of the way that 11 coached and I was not let down by that when I got here. I saw right away how much he loves the game of baseball. I greatly benefited because of that…" Posey said of Martin. "He was passionate, even in 97 degrees in fall practice. He was passionate about getting better, about teaching, about helping people understand the power of what their mind was and how it can help them through tough times. Some of those lessons I took all the way through my big league career and lessons now as a dad that I want to instill in my own children. A lot of times if you take your mind somewhere, your body's gonna follow you. That's sometimes a hard thing to understand as a young person through experiencing different difficulties."
Even in retirement, Posey is keeping himself pretty busy. He's on the board for Dick Vitale's V Foundation for Cancer Research and also enjoying all that comes with being a father of four.
"Four kids are keeping us busy. I'm really enjoying that. I'm in the carpool lane a lot," Posey quipped.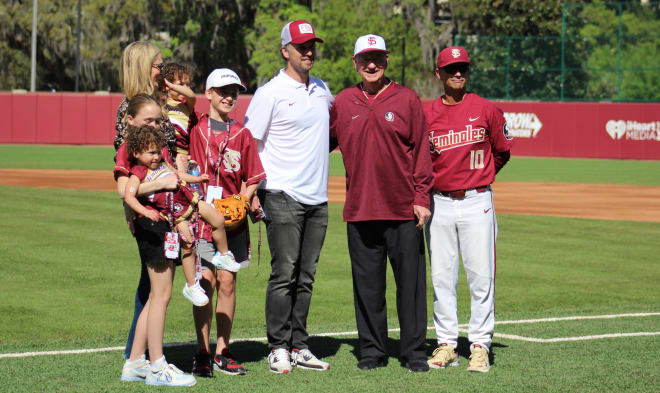 Posey's return to FSU came with a hectic schedule, which included multiple interviews, catching up with a host of former teammates, fans and giving his four children a tour of the stadium that he called home during his college days.
His 11-year-old son, Lee, even got to throw out the ceremonial first pitch of the game, throwing it to his dad behind the plate.
But Posey did take time out of that busy schedule to catch up with the current FSU baseball team. He sat down with them, talked about some of his favorite memories and moments and answered their questions about baseball.
In order to fit this in, the Seminoles skipped their pregame infield/outfield warmup reps before Saturday's game, which they won 5-3 over Pitt.
"My main message to them was, as cliche as it is, I do believe your two, three, four years that you get to spend at this university for me were some of my best memories as a baseball player," Posey said. "Not only just as a baseball player, but the time that you spend with your teammates away from the field. They become your best friends."
Jarrett added, "I'll never forget it and our team, those players will remember that forever."
Posey said he always tried his best to keep tabs on how things were going for the Seminoles after leaving, but admitted how challenging it was given his hectic schedule and living so far away on the West Coast.
However, he always made time for regular check-ins with Martin. And while he may not have a long-standing relationship with Jarrett, he's starting to change that and has a great deal of respect for what he accomplished in his coaching career before taking over his alma mater.
Posey ended his address to the fans at Howser, fittingly, by sending his best wishes to Jarrett's effort to do what so many FSU teams have come up just short of accomplishing.
"Link, good luck to you guys. Bring a championship back to Tallahassee."