Adrenaline was still buzzing through D'Moi Hodge's veins 15 minutes after Mizzou's 81-76 win over LSU.
Sitting in a side room inside the tunnel of the Pete Maravich Assembly Center in Baton Rouge, La., the senior guard couldn't stop reacting to what transpired late Wednesday night.
"Which one was it?" Hodge asked Missouri associate communications director Jason Veniskey. "Show it to me."
Veniskey opened his laptop and pulled up a clip of Hodge with just under 12 minutes left in the second half. He was back on defense after hitting a 3-pointer at the top of the key with 25 seconds left on the shot clock off a feed from senior point guard Sean East II. LSU senior point guard Justice Hill dribbled to the right wing and tried to force an entry pass to senior forward K.J. Williams in the post. Hodge was there to intercept it. It was his fourth steal of the night and 77th of the year, breaking Mizzou's single-season record.
East got the ball to Hodge again the next trip down, this time on the left wing. Hodge knocked down the triple to tie the score for the first time all night at 59-59.
"That's hard," Hodge said with a grin after watching the replay.
Setting the steals record has been a goal for Hodge since he committed to the Tigers on April 16. Head coach Dennis Gates said Hodge looked up the number to know exactly how many he needed.
When Hodge met graduate assistant coach Phil Pressey for the first time in the offseason, he realized Pressey was tied with former MU guard Anthony Peeler as the program's career steals leader with 196. Hodge was envious — he thinks he could've broken that record, too, if this wasn't his last year of eligibility.
"He's lucky," Hodge said of Pressey.
Missouri needed every single one of Hodge's pilfers to beat LSU (13-17, 2-15 SEC). The hosts came out scorching hot on offense, fueled by emotions that a Senior Night brings out. LSU made 12 field goals in the first half, 11 of them coming from beyond the arc. The team also did a good job of drawing fouls inside and was a flawless 13-13 at the free throw line.
LSU began the game on an 8-0 run, ran the lead up to as much as 19 and went into halftime ahead 47-34.
Hodge led the charge in Missouri's comeback, racking up three steals and connecting on three 3-pointers. His final trey of the night gave the visitors their first lead of the game at 77-74 with 1:37 remaining. Mizzou stayed in front the rest of the way, holding off LSU for the win, the team's first-ever inside the Maravich Center.
The British Virgin Islander ended the evening with 23 points and five steals. It's the sixth time he's had at least five steals in a game. He was a little disappointed with himself for breaking the record on Wednesday — he really wanted to do it in front of the team's home crowd in the regular season finale.
Gates remembered when Hodge didn't receive any postseason recognition after his first season at Cleveland State in 2020-21. The transfer's come a long way since then.
"I knew in my heart that for us to be successful, we'd need a player on the All-Defensive team, if not a Defensive Player of the Year. I truly believe D'Moi is that person," Gates said. "He's proved that over a period of time and the stats show it. Nobody guards the ball or gets in the passing lane the way he does and he's very impactful as a defender with very quick hands. So you know, I wanted all along someone to be on that defensive team and D'Moi should be that person and I hope he gets voted Defensive Player of the Year."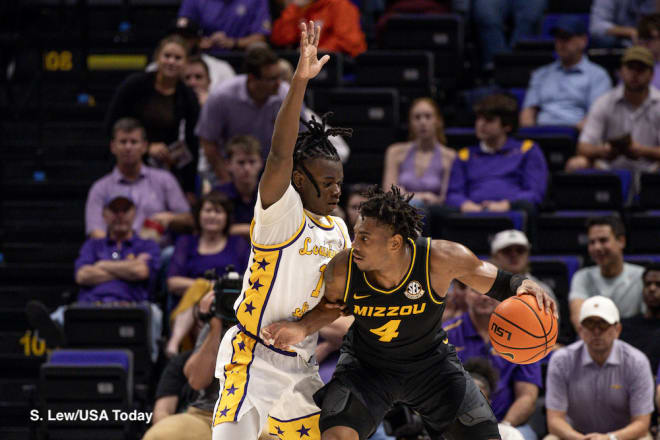 Gholston sparks Mizzou's comeback
Kobe Brown wasn't having a great night. He ran into foul trouble early, getting called for three in the first half. The senior forward couldn't find his rhythm from outside, missing all three of his tries from deep. LSU double-teamed him every time he had the ball in the paint, too. Missouri's leading scorer didn't have a lot of options to score.
Hodge hit a pair of 3s in the first half to get Missouri going, but the team needed someone to help him carry the load. Senior guard DeAndre Gholston was the one to do it. The Milwaukee transfer scored all of the visitors' final seven points of the first half, helping to slash LSU's 19-point lead down to 13 before the end of the period.
Senior guard Tre Gomillion played four minutes in the first half, but told Gates that his injured groin, which sidelined him for three weeks, felt sore. The two agreed it was best to shut Gomillion down in the second half as a precaution. Gomillion recommended that Gholston get all his minutes.
Gholston kept attacking the defense to start the second half, making three of Mizzou's first five shots and trimming the deficit down to 49-45. "The Rock" sank a pair of free throws to put his team up by two scores with six seconds left, sealing the 81-76 win.
He finished with 20 points, the most he's had since MU's home game against Houston Christian on Nov. 26 and the most he's had in any SEC matchup this year.
"He was big time. That's what he does," Gates said. "I truly believe that's who he is, the aggressive player on the offensive end and he does a great job defensively. I just thought he was able to get us some easy baskets, his physicality impacted the smaller guards and he was posting up a little bit and got going. That's crucial for him because he's one of our better one-on-one players. So to see that he was able to step up was very crucial to our success tonight."
Carter returns to his roots
Senior forward Noah Carter was another player who stepped up for the Tigers in the second half. Gates and his staff have wanted Carter to embrace his scoring prowess around the rim. According to KenPom, the Northern Iowa transfer makes 64.7% of his 2-pointers, which ranks 75th in the country.
He did so against LSU, taking advantage when undersized defenders switched onto him. Carter was 1-4 from distance, but shot 5-6 on his 2s. He ended the game with 13 points and a team-high seven rebounds.
"I think sometimes I've gotten away from playing the way that I've played my entire career, just being able to go inside and outside, be able to hit 3s and go play in the post," Carter said. "So I'm just getting back to what I'm doing and, you know, this team's clicking really well right now. So we're firing on all cylinders, we know we're tough to beat."
Up next
Missouri (22-8, 10-7 SEC) hosts its Senior Night game and will finalize its seeding in the conference tournament against Ole Miss (11-19, 3-14) inside Mizzou Arena on Saturday at 2:30 p.m.
Stay up to date on all the Mizzou news with your premium subscription
Talk about this story and more in The Tigers' Lair
Make sure you're caught up on all the Tiger news and headlines
Subscribe to our YouTube Channel for video and live streaming coverage
Everyone on here already has insurance (or they should). Everyone on here also cheers for the Tigers (or they should). In college sports the hot button issue is NIL. A school can no longer compete the way they did just a few short years ago without a robust NIL collective. In our economy, the hot button issue is inflation. Here's your opportunity to see about saving money on something that the state requires you to have on your car and your lender requires you to have on your house. Oh and by the way, just a quote from James's office will get a donation on your behalf to Every True Tiger Foundation, one of Mizzou's NIL initiatives. Blink if you like saving money. Blink twice if you want to do everything you can to position your favorite college program to be as competitive in the SEC as possible. Give James's office a call at 314-961-4800 or get a quote online at carltoninsurance.net.
"If your insurance costs a leg and an arm, call James Carlton State Farm."