Five former Purdue Boilermakers participated in the 2023 NFL Combine just an hour from their old stomping grounds. This year marked the most Purdue products in attendance in nearly 20 years, when nine Boilermakers competed in the annual showcase in 2004.
Quarterback Aidan O'Connell, wide receiver Charlie Jones, cornerback Cory Trice, tight end Payne Durham and linebacker Jalen Graham all worked out in front of NFL coaches and front office personnel this week. All five of those players, plus a handful of others will have another opportunity to impress NFL teams at Purdue's Pro Day on March 9th in West Lafayette.
Let's check in to see how each player performed at the NFL Combine at Lucas Oil Stadium.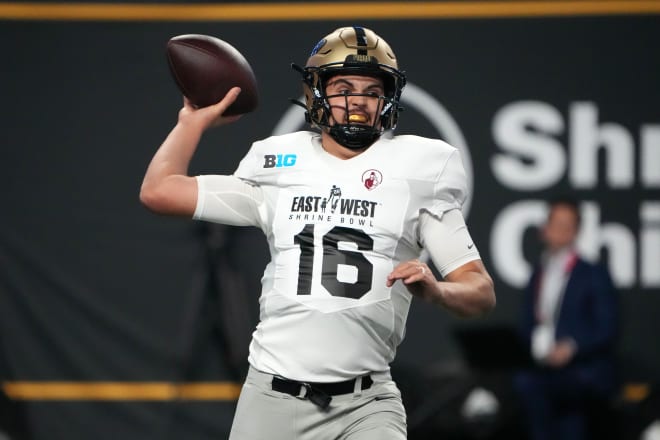 Aidan O'Connell:
This week, the most notable Boilermaker in Indianapolis is former signal caller Aidan O'Connell. Only one Purdue quarterback, Drew Brees, has been drafted in the first two days of the NFL Draft since 2001, but O'Connell aims to change that. The walk-on turned two-time All-Big Ten second-team selection was among 15 quarterbacks invited to this year's combine.
O'Connell does not have the most impressive physical traits but will lean on his accuracy from the pocket to win over teams. In the measurements phase of the week, he came in at 6'3″ and 213 pounds while having a hand size of 9 3/4″, which was about the middle of the pack among quarterbacks in attendance.
The most accurate quarterback in program history showed off his throwing ability in the on-field workout portion of the event, hitting his receivers in stride and having solid velocity behind his passes. O'Connell connected on all three of his deep balls, including one to his former top target, Charlie Jones.
O'Connell opted to wait until Purdue's Pro Day next week to perform the 40-yard dash and other testing events.This week was important for O'Connell in the interviews with NFL coaches more so than his on-field performance.
O'Connell's athletic limitations compared to the likes of CJ Stroud, Anthony Richardson, Will Levis, and Bryce Young will cause him to fall further back in the draft, but he could still see himself getting selected next month. He has been projected by several scouting services as a day three selection in April.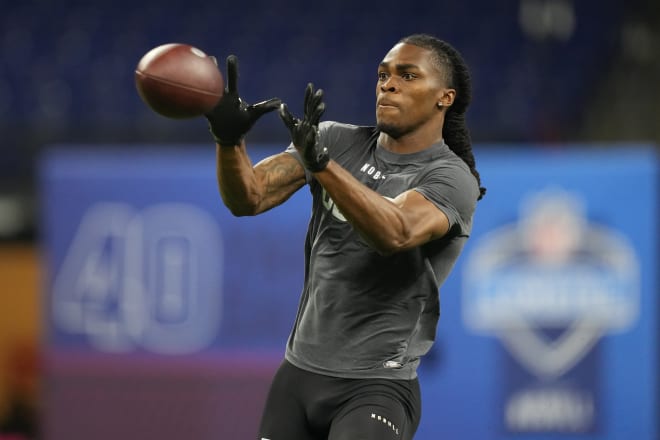 Cory Trice:
Former Purdue cornerback Cory Trice enters the NFL Draft prospect as an interesting prospect. Trice dealt with several injuries during his time in West Lafayette but became the Boilermakers' top cornerback in 2022. The Kentucky native did himself a favor with his performance at the combine this week.
Trice's combination of size and athletic ability could make him an intriguing option for some teams in the latter part of the NFL Draft. At 6'3″, he was one of the tallest cornerbacks at the combine. In the 40-yard dash, Trice was 18th out of the 29 cornerbacks who worked out, clocking in at 4.47 seconds.
However, the Purdue product made a jump up the group in two other categories. Trice tied projected top ten pick Joey Porter Jr. for the second most reps at bench press with 17. He also placed tied for sixth in the broad jump, at 11″, which was six inches behind the top at his position.
Late last season, former Purdue secondary coach Ron English said Trice has all of the physical tools to become an NFL cornerback but expects his former player to take a season to get acclimated to the pro level before making an impact. Many have projected Trice to be an undrafted free agent or day-three selection in April's draft but likely boosted his stock in Indianapolis this week.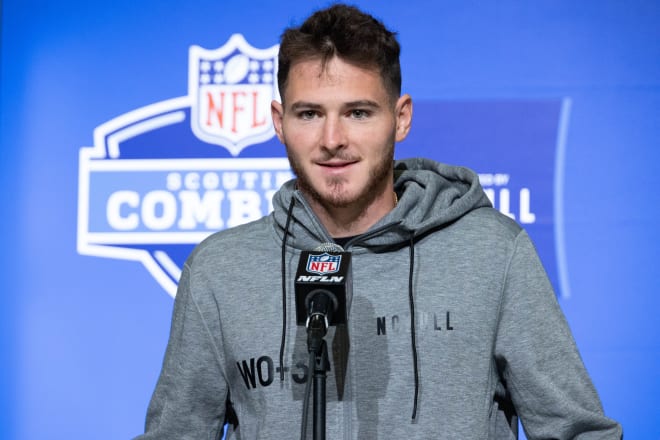 Charlie Jones:
Purdue's breakout All-American wide receiver in 2022 was the biggest winner of the Purdue players to participate in drills this week. Charlie Jones emerged as one of the most productive receivers in the country last season, catching 110 passes, scoring 12 touchdowns, and setting a single-season Purdue record with 1,361 receiving yards after transferring in from Big Ten West rival Iowa.
At 5'11", 175 pounds, he will be on the smaller side among NFL wide receivers but displayed his athletic ability at Lucas Oil Stadium. Out of 43 receivers, Jones had the 11th fastest 40-yard dash with a time of 4.43 seconds.
Jones was in the middle of the pack in both the vertical and broad jumps, with a mark of 36.50″ and 10'4″, respectively.
During the route-running portion of the on-field workouts, Jones impressed future Pro Football Hall of Fame wide receiver, Steve Smith Sr., who was watching the receivers as a part of the NFL Network broadcast. He showed the ability to run a full route tree and have soft hands when catching passes. Jones had the most contested catches in all of college football last season with 22, per Pro Football Focus.
Jones is projected to be a late day-two or early day-three selection in the 2023 NFL Draft and could carve out a nice role with the right fit. He also enters the NFL with a pedigree as a return specialist.
While he did not have the same success returning punts and kickoffs with the Boilermakers, Jones was the Rodgers-Dwight Big Ten Return Specialist of the Year in 2021 with Iowa after racking up 920 return yards and a touchdown with the Hawkeyes. Jones could serve as a slot receiver and return specialist at the next level.
Payne Durham:
All-Big Ten tight end Payne Durham is considered the top NFL prospect of any Boilermaker this year. Durham was one of the most productive tight ends in Purdue history and in the country during his time in West Lafayette. He racked up 126 catches, 1,275 receiving yards, and 21 touchdowns over five years with the Boilermakers. His 21 touchdowns are the second most by a tight end in school history behind Dave Young's 29.
Durham did not have the best week in Indianapolis, however. The Purdue product placed last out of 13 tight ends in the 40-yard dash, running it in 4.87 seconds. In the vertical jump, Durham was 8th out of 13, with a number of 34.50″ and 10th in the broad jump at 9'9″ on the week.
At 6'6″ and 253 pounds, Durham has solid size for a tight end at the professional level. Luckily for Durham, his tape could override his poor testing numbers as he led Big Ten tight ends in touchdown receptions last season. He also had an impressive showing at the Senior Bowl in Mobile, Alabama last month, both in practices and the game itself.
An overlooked aspect of Durham's skillset is his ability as a blocker and to play special teams. At the next level, he will be expected to assume more of a blocking role early in his career and could find himself seeing the field if he excels in that area. At Purdue, Durham played on several special teams units, even when he was one of the top targets for Aidan O'Connell. That will also be useful as he fights for a spot on an active roster next fall.
Durham is projected to be a day two or day three selection in next month's NFL Draft. His versatile skillset will give him the opportunity to play for a long time on Sundays.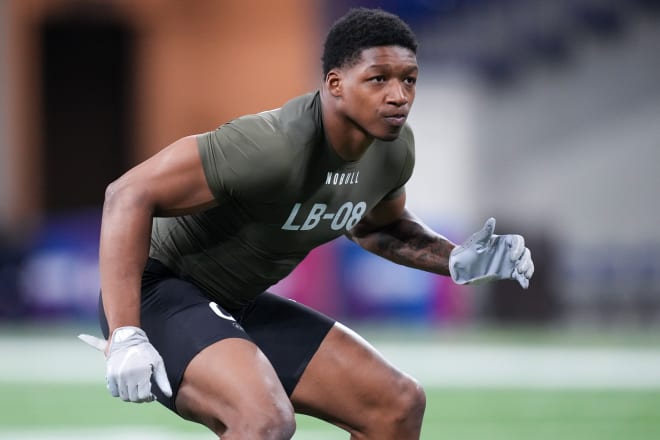 Jalen Graham:
Jalen Graham is another interesting prospect in this year's NFL Draft. At Purdue, he spent time bouncing between safety and linebacker in a hybrid role, which could fit him as he embarks on a professional career.
At 6'2″ and 220 pounds, Graham's frame fits the mold of where NFL linebackers have evolved in recent years as a lengthy and smaller athlete. Graham could not translate his physical tools in testing at the combine this week.
Purdue's top defensive player last season was 14th out of 16 linebackers in the 40-yard dash, running it in 4.64 seconds. The poor 40-time may impact Graham less, with Henry To'oTo'o, Noah Sewell, and Jack Campbell running similar times. Those three prospects are seen as the top linebackers in this year's draft.
Graham was also last in the broad jump at 9'4″, three inches behind the next shortest jump. In the vertical jump, he was tied for last after posting a number of 30.50″ with Dee Winters.
Similarly to Payne Durham, Graham's versatile skillset could suit him well as he heads to the NFL as he can play in the box as a linebacker or drop into coverage. His instincts will also help compensate for some of his limitations as a defender. Graham is seen as an undrafted free agent or day-three selection in April's draft but could have to excel on special teams to carve out a role at the next level.