The Pitt basketball team is fighting for an ACC Championship late in the college basketball season and that is the only topic we will be discussing in this week's 3-2-1 Column.
The Panthers find themselves a half game out of first place heading into this weekend, and they face a huge challenge when long-time foe Jim Boeheim and the Syracuse Orange come to town tomorrow. Storylines are plentiful as we head into the biggest home game of the season for this Pitt team.
THREE THINGS WE KNOW
Pitt pulled off a gritty February win
The Pitt basketball team secured its 20th win of the season with a 76-68 takedown of Georgia Tech on Tuesday night. The Panthers had to fight for all 40 minutes to earn that victory over a pesky Yellow Jackets team, however. Pitt trailed in that game 52-51 with 9:31 remaining, but the team found an extra gear playing at home like they have so many times this year to push ahead for another victory.
Tuesday's victory marked Pitt's fifth straight win inside the Petersen Events Center.
The Panthers made 8 of their final 10 field goal attempts and shot a near-perfect 19-of-20 from the free-throw line to dispatch the Yellow Jackets and improve to 20-8 on the year and 13-4 in the ACC.
This Pitt team has been defined by numerous players stepping up at different times throughout the season. They are not a one-man show by any means, and on Tuesday it was Nelly Cummings' turn to guide the ship and the Beaver County native delivered one of his finest performances in a Pitt uniform. The senior point guard posted 22 points, 7 assists, and 6 rebounds. Cummings was also perfect 7-of-7 from the foul line. In addition to Cummings' performance, Blake Hinson bounced back from a dreadful game on Saturday to the tune of 19 points and five made threes. Federiko Federiko continued his astonishing in-season progression with 14 points, 7 rebounds, and another two blocks.
Pitt star Jamarius Burton had to fight for his 11 points, sharpshooter Greg Elliott was not effective on Tuesday, and the bench provided only 2 points. In Pitt's win over Tuesday night they were not clicking on all cylinders by any means, but in the end it doesn't really matter. This Pitt team can't worry much about style points anymore, they just need to continue to stack wins.
Nobody needs to apologize for winning games in February, especially Jeff Capel's club. Pitt was a 12-point favorite heading into Tuesday's game with the Yellow Jackets and many expected the Panthers to roll against them, myself included, but it didn't work out that way. Georgia Tech's zone defense slowed the tempo of the game down for Pitt. Josh Pastner's team also hit some tough shots throughout the game. Georgia Tech star sophomore Miles Kelly was spectacular and finished with 28 points. They were a conference opponent looking to play spoiler late in the season and played well enough to nearly do just that.
Pitt is not alone in that regard. Virginia had multiple close calls before a stunning 63-48 loss to Boston College on Wednesday. Miami had to fight to beat Virginia Tech in Blacksburg on Tuesday. It's the grind time of year in college basketball and everyone is clawing for wins, especially in a conference title chase, which became a bit more interesting after Wednesday. Miami currently holds the top-spot by a half game at 14-4, while Pitt and Virginia are tied at 13-4.
At this stage of the season, Pitt cannot change how all the computer rankings view them. The Panthers also can't sway how Top-25 voters feel about the ACC's perception this season. What this team can do is win every game placed in front of them for the next week and try to make a run at their first-ever ACC title. That is a championship that has nothing to do without outside influences and is based on actual wins and losses. Pitt got the win it needed on Tuesday which sets the stage for a dramatic three-game run to close the year.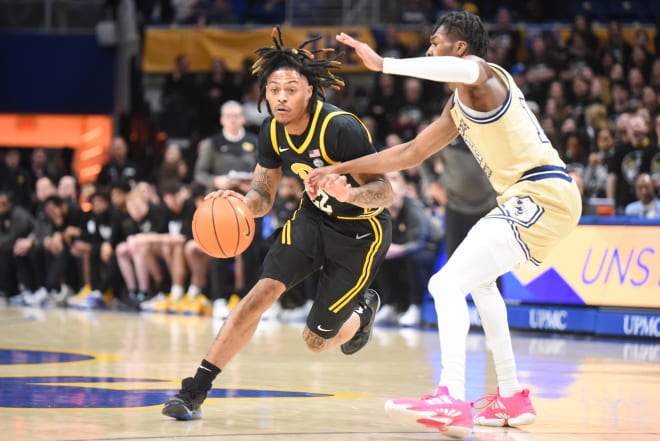 Sizing up the Orange
In a way, it's only fitting that Saturday's opponent is the Syracuse Orange. As Pitt makes one last push for its first-ever ACC title and gets set to host its biggest home game in a decade, it just makes sense that it will be Jim Boeheim and his 2-3 zone standing in their way of everything they are trying to accomplish.
Syracuse is the only real, true rivalry Pitt has in the ACC. The Panthers and Orange entered the league as a pair ahead of the 2013-14 season, they play twice a year, and longtime Pitt nemesis Jim Boeheim is still calling the shots for Syracuse.
Pitt and Syracuse have played in some absolute classic games throughout the years, but aside from the nostalgic, historical perspective, there is certainly some added juice (excuse the pun) heading into Saturday's game.
The 78-year old Boeheim has been the head coach in upstate New York since the 1976-77 season, and it's clear he is getting towards the end of his run. Syracuse has had double-digit losses in each of the last seven seasons. The one-time Big East powerhouse has yet to catch that same traction in the ACC.
Boeheim was interviewed earlier this year about his potential retirement and other topics around college basketball. The veteran head coach had a pretty interesting thing to say about the state of college athletics, and in particular, about this current Pitt team.
"This is an awful place we're in in college basketball," Boeheim said. "Pittsburgh bought a team. OK, fine."
Boeheim mentioned a few other schools by name, but he threw out Pitt first in his accusation. The program that was picked to finish 14th in the league 'bought' a team…
"I have no comment," Jeff Capel said when asked about Boeheim's remarks a few days later. He said Boeheim reached out to him personally, but would not share the details of that conversation.
This game does not need any extra motivation from the Pitt side of the things, but I would have to imagine the Oakland Zoo and the Petersen Events Center crowd will not receive Boeheim too kindly on Saturday.
Pitt has plenty to worry about this Syracuse team on its own. The Orange have a 16-12 record and are coming off a 91-73 loss to Clemson on Wednesday. Despite the record, Syracuse still has something to play for and they have some dangerous pieces on the roster who can give Pitt problems.
Pitt narrowly defeated Syracuse 84-82 back on December 20th. It was a game in which the Panthers held an 18-point second half lead, but needed a defensive stop on the final possession to fend off a furious Syracuse second half rally.
This is a Syracuse team reminiscent of many Orange teams of the past. They are fueled by two high-usage guards in Joe Giard and one-time Pitt commit Judah Mintz. The Orange also feature a springy and athletic 6'11" center in Jesse Edwards and they still play that same patented 2-3 zone. Syracuse is not an overly deep team and they kind of just do what they do, so in essence a vintage Boeheim team.
Pitt and Syracuse will be playing for the 124th in history on Saturday. The Orange own a 74-49 advantage all-time, but Pitt certainly has the home court advantage in this one. Pitt is 11-5 all-time against Syracuse inside the Petersen Events Center and will be looking to add to that total in front of what is expected to be a sold-out crowd.
This senior class delivered
Pitt is in the midst of its best basketball season in nearly a decade and this effort has been fueled directly by perhaps what we will eventually call a program-changing senior class?
Well, it remains to be seen how Pitt finishes up this season, and also if the program is off on a better foot for the future, but in the present this group has certainly changed the current outlook of Pitt basketball for the better. Even if this team does not win an ACC title or make a deep run in the NCAA Tournament, they have woken up some echoes in this once proud program that really needed a season like this.
Jamarius Burton, Nelly Cummings, Greg Elliott, and Nike Sibande all took different paths to get to Pitt, but their collective makeup as a team and their ability to mesh together quickly has allowed the Panthers to reach the top of the ACC standings this season.
Cummings perhaps embodies exactly what this program has needed for a long while: a point guard that cares about winning above all else. Cummings is playing with more than just a winning mindset, he is looking to restore pride to his hometown program.
"I really remember the times in third grade when I was in that gym and I remember that vibe with Sam Young and those guys for years, so I really want to bring that back, and I want to inspire that and keep it going from here," Cummings told Panther-Lair.com following his commitment. "I want my year to be the first step and I just want it to continue to grow and grow back into what I remember it being."
Cummings grew up in nearby Midland, Pa. He saw all the success Pitt had through the years as a Big East powerhouse when he was a kid and wanted to be part of a team to restore that success around the program, and it's hard to argue Cummings hasn't done what he set out to do. The only season he will wear a Pitt uniform has been a memorable one, as he is averaging 10.9 points and 4.7 assists per game.
He also made good on his word to win, and delivered a 20-win regular season to Pitt for the first time in seven years.
Like Cummings, Greg Elliott expected to be on an immediate contender when he chose Pitt. He played for Marquette's team that made the NCAA Tournament a year ago and was sold on doing the same thing this season at Pitt.
"That's what we were brought here for, us transfers, we all were told we're trying to turn this around, nobody said we were rebuilding," Elliott said in a recent interview. "We knew we were coming in to make noise this year. We came in with that mindset, with that chip on our shoulder and then picked 14th only helped with that."
Elliott's impact has been noisy and has helped Pitt exceed its preseason expectations. The senior guard has connected on 65 3-pointers this season and is shooting them at a 41% clip and has helped transform Pitt into one of the most lethal outside shooting teams in the country.
As for Pitt's two other seniors, they had a little bit of a rockier road during their time in Oakland. Nike Sibande had his first season at Pitt interrupted by NCAA transfer issues and then missed a second year with a season-long injury. Over the course of his first two years with Pitt, the Panthers accumulated a 21-33 record with him having a minimal impact on the court.
After coming off of a knee injury, Sibande has saved his best year in Oakland for last. The Miami (OH) transfer has a legitimate claim as the best sixth man in the conference with 12 double-digit scoring efforts on the year as a bench player.
Burton also felt the weight of this Pitt program in his own way, as he was the second leading scorer on last year's team that only won 11 games. He was on the wrong side of plenty of games last season and played in front of some very small crowds.
Pitt is the third school now for Burton and this season represented his last chance to make a name for himself in college basketball, and he's done more than just that. The Pitt senior is one of the leading candidates for ACC Player of the Year. Burton is averaging 15.6 points, 4.7 rebounds, and 4.3 assists while shooting nearly 50% from the field.
As a program, Pitt needed to flip the script this season and this senior class really made it possible. There is still a lot of basketball to play and a lot of unknowns ahead, but this group really changed the entire perception around this program in a short amount of time.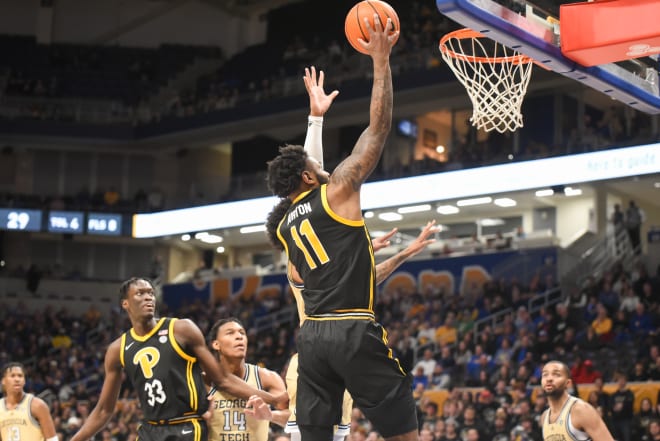 TWO QUESTIONS WE HAVE
This is the biggest game at the Petersen Events Center since…?
Pitt announced last week that the home finale at the Petersen Events Center against Syracuse was sold out. The Panthers and Orange will meet tomorrow for a 5:00 p.m. tip on the ACC Network in what should be an electric environment for the team's senior day festivities.
The Oakland Zoo will be out in full force, a longtime rival will be in town, and Pitt will be playing a meaningful game in a tight conference championship race. We have seen this story at The Pete before, it was almost an annual thing for about a decade…but it's been a while, right?
When is the last time the stakes were so high this late in the season for Pitt to host a big-time college basketball game?
Has it ever really happened since Pitt joined the ACC?
Maybe once. Pitt hosted, fittingly enough, No. 1 Syracuse back on February 12, 2014. It was the first year in the league for both teams and the Orange were among the nation's elite that season and came into the game undefeated. Pitt was pretty good, too, and entered this game with a 20-4 record and 8-3 in the ACC and ranked 25th in the country. The two teams met earlier in the season with the Orange prevailing by 5 points in the Dome.
The game had some hype and featured a crowd of 12,935, which is the second-largest crowd all-time at The Pete. Unfortunately for Pitt, the second meeting went in favor of Syracuse as well, as Tyler Ennis hit a 35-footer at the buzzer to stun the Pitt faithful.
That game certainly lived up to the hype, but it was still somewhat early in the season and both teams had a chance to recover in a sense. So when is the last time Pitt has hosted a game this late in the season that meant so much? I think you have to look back to the Big East days.
The Panthers clinched the 2011 Big East regular season title with a 60-50 win over Villanova on the final day of the regular season in front of 12,843 fans. It was the senior day for Gilbert Brown, Gary McGhee, and Brad Wanamaker and No. 4 Pitt finished the regular season 27-4.
Pitt's game tomorrow with Syracuse is not the final, deciding game in the ACC title race, but it is still a huge game with big implications for this team against a rival in the home finale on senior day. It has been a while since the Petersen Events Center sounded like it did when it first opened, but after six straight losing seasons and with what this team has done already this season, it should be a step back in time on Saturday.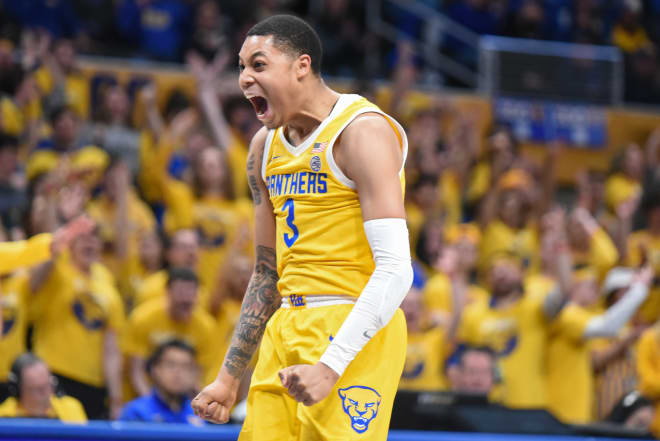 Does the ACC need to promote itself better?
Jeff Capel dropped an interesting line on the weekly ACC Coaches Zoom and it pertained to how the league promotes itself. I thought it was interesting to see his perspective into things as he watches basketball on his own time.
"I'm watching our own network and one of the first questions that comes up is, 'Is it perception or reality that the ACC is down?' I never see that on the Big Ten Network…they are always, always pumping the Big Ten. Always. I think it's a really good league, but I think ours is, too, and I wish the people that represent us would have the respect and pump our league and be positive instead of looking at negative things."
I have to agree that the ACC could market itself a little better. We are in a not-too-distant world where more conference realignment will inevitably happen and the conference needs to do everything possible to strengthen the standing of this league and also keeping the schools in it happy.
Capel's suggestion was a rather simple first step: let the ACC Network be a voice for the league. Who cares if the studio guys sound biased? It's your channel. They are there simply to promote your 15 schools as much as possible and make you as much money as possible. They are there to sell your product, not question it. Don't feed into the national perception that the ACC is down, tell your viewers why it isn't. It's not a hard concept.
It goes beyond just some studio voices doing some talking because Wednesday was a perfect example of the league failing its member schools from a viewing standpoint. There were four ACC basketball games on the schedule and only two of them were on regular TV.
How do you let that happen?
North Carolina and Notre Dame played at 9:00 on ESPN and Syracuse and Clemson played at 7:00 on the ACC Network. You know what did not come on at 9:00 p.m. on the league's own channel? An ACC basketball game.
They showed some 30 for 30 style Clemson football puff piece instead of the NC State and Wake Forest game. The league is trying to fight for a better perception, but they aren't featuring a late February game between two in-state rivals with NCAA Tournament aspirations? While were at it, why did I have to login to ESPN.com to watch the ACC's only top 10 team play last night?
I guess fortunately for the league Virginia was buried somewhere and not featured on national television with that Boston College loss, but that is besides the point. I know in an age of streaming television you are a few clicks away from finding any game, I get that, but still not every consumer thinks that way. Some people just want to flip on the ACC Network to watch some ACC basketball.
It doesn't need to be this hard.
The ACC Network simply needs to be a better voice for the league moving forward, or at the very least a place where you can watch actually watch the teams play.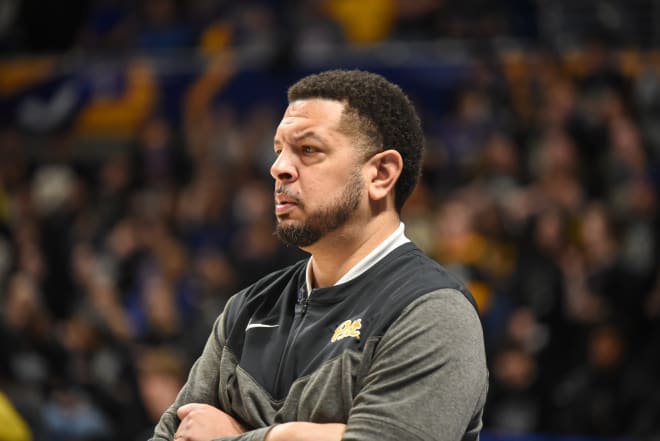 ONE PREDICTION
Jamarius Burton will be the key in Pitt's game tomorrow
Jamarius Burton has been Pitt's go-to-player all season. He has had some dazzling performances and his play has directly led to some of Pitt's biggest wins this year.
Burton's 31-point performance in Pitt's 76-74 win over North Carolina on December 30th sort of catapulted himself into the conversation as one of the best players in the league and that game sort of announced Pitt as a contender in the conference.
The senior also fueled Pitt's win later in the year over Miami on January 28th. He posted 19 points, 10 rebounds, and 7 assists, but his three steals on defense were pivotal in Pitt's last-minute surge to win the game.
Burton has come up clutch multiple times this season, and I expect him to be at his best on Saturday even though his numbers have dipped recently. Burton has not reached 20 points in nine straight games. He is shooting just 14-of-34 over his last three games and needed 11 shots on Tuesday to get to 12 points against Boston College.
While Burton has scored in double figures 23 times this season, including the past four games, it has been a struggle to get there of late. Teams are keying in on him more and the grind of a long season looks to be weighing on him. Pitt has had other players pick up the scoring, of course, as the Panthers have won 9 of their last 11 games.
Pitt has not relied on Burton's scoring as much of late, but Saturday is a game where they might need to, or at least let him be the key to the game plan. In the first meeting back in December, Burton only finished with 9 points, but he did dish out seven assists and that's where he could be most effective against the Orange.
There are different ways to attack the 2-3 zone, but sticking Burton in the high post and surrounding him with shooters and a dump-off option in Federiko is probably Pitt's best bet at success. Burton is comfortable shooting mid-range jumpers or creating open shots for teammates. Pitt needs him to be at his best on Saturday, and I believe he will be up for that challenge in his final home game.