Missed opportunities, a need for more offense and a freshman's emergence – here are our three key takeaways from Pitt's loss to Xavier in the NCAA Tournament on Sunday.
Missed opportunities
Every loss is defined by missed opportunities, and Pitt certainly had its fair share in Sunday's game.
Beyond the poor shooting – 6-of-20 from three – and inability to corral offensive rebounds – Pitt had 10 despite missing 43 attempts from the field – there were several key stretches when the Panthers could have put some pressure on the Musketeers but failed to do so.
One such stretch came early in the second half when Xavier big Jack Nunge picked up a third foul and went to the bench. Xavier coach Sean Miller kept Nunge there for nearly five minutes, seemingly opening a door for Pitt to attack the rim in a way that Nunge's size had prevented to that point in the game.
Jeff Capel even adjusted his lineup with an emphasis on offense, rolling out guards Nelly Cummings, Jamarius Burton, Nike Sibande and Greg Elliott and forward Blake Hinson. And initially, it worked, as Burton scored on a drive to the hoop shortly after Nunge went to the bench.
But that was virtually all Pitt got from Nunge's absence. After Burton's layup, Elliott missed a three and Burton missed another layup attempt. Sibande scored on a drive, but then Burton had one blocked and missed a pull-up jumper, Hinson missed a layup attempt and Sibande was off on a jump shot.
Pitt was down 15 when Nunge went to the bench; when he returned, the Panthers were down 16.
That stretch wasn't Pitt's only missed opportunity in the game. The Panthers were up 15-14 in the first half but then they made one basket on their next seven possessions and went from a one-point lead to a 10-point deficit.
Pitt did finally go on a run in the final seven minutes, but even then, the Panthers' chance to cut the lead to seven with two minutes left to play ended in a turnover when Burton passed up an open Elliott to pass to Cummings.
Pitt got to the round of 32 by capitalizing on opportunities against Mississippi State and Iowa State, but they couldn't capitalize on Sunday to make the Sweet Sixteen.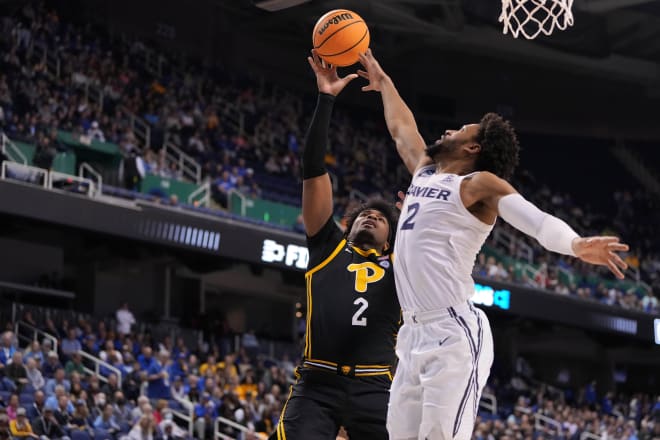 Needing more offense
Pitt's defense looked pretty solid against Mississippi State and Iowa State, holding the former to 59 points and the latter to 41.
But the Bulldogs and Cyclones were among the worst offensive teams in their respective conferences, which helped the Panthers' efforts.
On Sunday, Pitt ran into the best offensive team in the Big East, and the outcome reflected it. Xavier shot 47.6% from the floor and 33.3% from three, which included a 7-of-14 mark from deep and a 52.8% overall shooting percentage in the first half. Xavier committed just eight turnovers, assisted on 22 of its 30 made baskets and scored a whopping 42 points in the paint.
Pitt's defense may have improved in the last week, but it didn't improve enough to stop Xavier's offense.
The Panthers' best chance – maybe their only chance – was to win the track meet. Slowing down Xavier's offense wasn't likely, but if Pitt could score at the rate it did when it was playing well this season, the Panthers could hang with and possibly even eventually overcome the Musketeers.
They needed to be firing on all cylinders, though, and they decidedly were not. Pitt shot 6-of-20 from three against Xavier – a performance that looked like what the Panthers did against some of the better defensive teams they faced this season (6-of-19 against Iowa State, 5-of-18 against Duke, 3-of-18 at Virginia Tech). They were an even 40% from inside the arc, making 21 of their 50 attempts, but despite 43 total missed shots – and seven more missed free throws – Pitt grabbed just 10 offensive rebounds and scored 12 second-chance points.
The individual performances were even more of a concern than the team output. Jamarius Burton scored 16 points on 7-of-18 shooting. Nelly Cummings had nine on 3-of-14. Blake Hinson was the team's leading scorer with 18 points. But Greg Elliott attempted just two three-pointers and the Panthers were never able to generate the offense that had carried them through the season.
After two bruising rock fights, this was a game that Pitt had to win with offense, and the Panthers didn't get enough of it.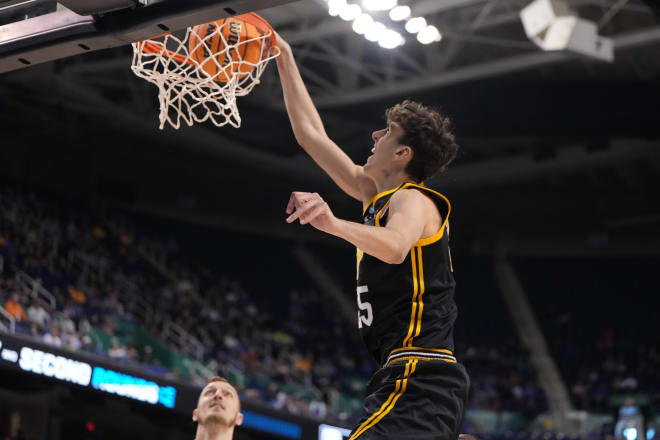 Guillermo's emergence
When Federiko Federiko injured his knee in the ACC Tournament, it pushed freshman Guillermo Diaz Graham into a starting role. The freshman from Spain started all three of Pitt's NCAA Tournament games, and while it wasn't all perfect, it's hard to argue with his performance.
In Sunday's loss to Xavier, Diaz Graham scored 11 points – the third time this season he has reached double figures – grabbed eight rebounds, blocked three shots, made one steal and committed just one turnover.
That followed the Iowa State game, when he had nine points and rebounds, blocked three more shots, didn't commit any turnovers and recorded another steal.
All told, in three Tournament games, Diaz Graham scored a total of 23 points, pulled in 21 rebounds, blocked eight shots, made four steals and committed just one turnover. That's an average of 7.7 points, 7 rebounds and 2.7 blocks per game.
In the last two games, he averaged 10/8/3.
That's a pretty impressive showing from the freshman who, along with Federiko, has had to fill the rather sizable hole left by John Hugley's midseason departure. And while Diaz Graham's strength and general bulk left him vulnerable to getting pushed around, his never-ending will to battle and ever-increasing skill set made him more effective than most would have expected, particularly given some of the matchups he faced in the NCAA Tournament.