Where does luck end and skill begin? When is survival a trait and not just good fortune?
Missouri polished off a 23-8 regular season on Saturday with an 82-77 win over Ole Miss. It was the Tigers' eighth win by five points or fewer. They have not lost a game by fewer than six. In games decided by fewer than nine points, Missouri is 10-1. In games with a final margin in single digits, the Tigers are 12-3.
Lucky or good?
"We've all had it in our blood," Noah Carter said after what may have been his best game of the season. "We're not a young team. We've all come from good programs and we have a good coach that teaches us every day.
"I think it's been with us the whole time."
"I'm proud of the staff, I'm proud of our players, the ability to execute and see the game a certain way," head coach Dennis Gates said. "It takes preparation. We've been preparing."
Part of that preparation is consistently playing four-minute games in practice. Gates said he doesn't allow the coaches to speak during those games. The players have to manage the situation and figure it out. So when it happens under the lights, they're ready.
Missouri has most definitely been ready.
GET THE INSIDE SCOOP EVERY DAY WITH YOUR PREMIUM SUBSCRIPTION!
Part of that is preparation. Part is experience. Even though eight of them were in their first year in a Mizzou uniform, nine players were honored on senior day, playing their fourth or fifth years of college basketball.
And is at least a part of it luck? Sure.
The truth is, it doesn't matter. Missouri has played 31 games and it has won 23 of them. It won 11 of 18 in SEC play, doing enough to earn the four seed in the conference tournament—its highest ever—thanks to a one-point win over Tennessee thanks to a 40-foot buzzer beater by Dree Gholston and a three-point victory over Vanderbilt that looked more and more impressive as the season rolled on.
Missouri wasn't always good, but it was always interesting. The Tigers lost a game which they led by 17 and another in which they started out 11-0. They won two on buzzer beaters from just inside half court, two in overtime and and one in which they did not hold the lead until 97 seconds remained. But it was good a whole lot more often than it wasn't.
That credit goes to Gates. It's the roster construction. It's the nearly impossible calm on the sidelines, expression never changing regardless of the situation. If Gates wore a heart rate monitor during games, it might never waver. Of all the new faces, none has been more vital to this year one revival than the man in charge of it. He constantly deflects the credit, but he took a brand new team picked to finish 11th in its own conference to an NCAA Tournament lock before the conference tournament begins. He took a program that, while not at its lowest, was unquestionably down and a fanbase that had long ago surpassed apathy into outright self-loathing and he revived them. In nine months.
"From day one nine months ago they gave me their hearts," Gates said after Saturday's win. "It's not easy to trust and give your heart to a stranger. They gave me theirs. I appreciate that. In turn, I definitely gave mine to them."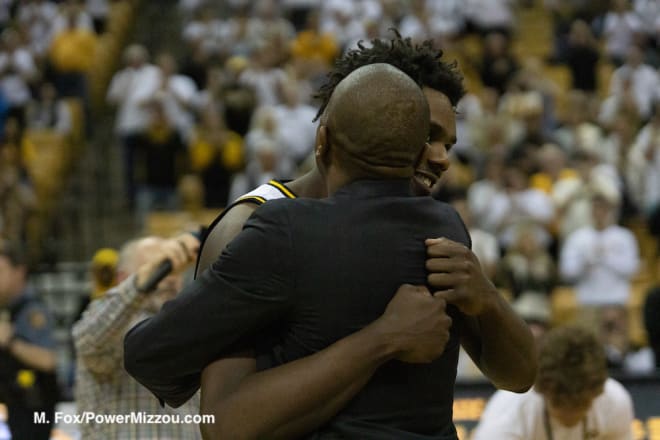 In the process, he and his players won over the hearts of their fans. Whether it happened with the blind optimism of a new hire or somewhere in the middle of a 9-and-0 start or at the end of a three-game winning streak to close the season and clinch an extra day off this week may depend on the individual. But it happened. As fans chanted "One More Year" at leading scorer and face of the program Kobe Brown, everything this team has given to its fans was returned in a postgame ceremony following win number 23.
"The smiles we put on everyone's faces, that's the biggest part for me," Brown said. "To bring Mizzou basketball back, it's a fun experience. I'm happy to be able to graduate from the University of Missouri. It was a surreal moment."
The question now becomes if those survival skills during the regular season will translate now that the games really count. If Missouri loses next week in Nashville, it is out of the SEC Tournament. If it loses after that, the season is over. The ever-understated Gates took about three seconds to take stock of year one before the postseason begins.
"It's been fun," he said. "And I'm excited about the next stage."
As are we all. It's March and Mizzou matters. The battle-tested Tigers are ready to embark on the journey.
Stay up to date on all the Mizzou news with your premium subscription
Talk about this story and more in The Tigers' Lair
Make sure you're caught up on all the Tiger news and headlines
Subscribe to our YouTube Channel for video and live streaming coverage
Everyone on here already has insurance (or they should). Everyone on here also cheers for the Tigers (or they should). In college sports the hot button issue is NIL. A school can no longer compete the way they did just a few short years ago without a robust NIL collective. In our economy, the hot button issue is inflation. Here's your opportunity to see about saving money on something that the state requires you to have on your car and your lender requires you to have on your house. Oh and by the way, just a quote from James's office will get a donation on your behalf to Every True Tiger Foundation, one of Mizzou's NIL initiatives. Blink if you like saving money. Blink twice if you want to do everything you can to position your favorite college program to be as competitive in the SEC as possible. Give James's office a call at 314-961-4800 or get a quote online at carltoninsurance.net.
"If your insurance costs a leg and an arm, call James Carlton State Farm."