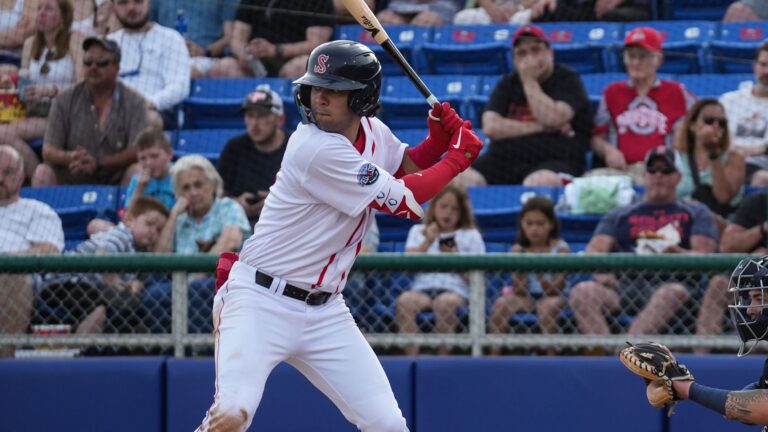 According to a new ranking, Red Sox shortstop Marcelo Mayer is the No. 3 prospect in all of baseball.
ESPN's Kiley McDaniel, who ranked the top 50 players who haven't yet met the standards for being a rookie in the major leagues, put Mayer just behind Elly De La Cruz (Reds), and Eury Perez (Marlins).
In his offseason ranking, McDaniel put Mayer at No. 7 on his list. In Wednesday's edition, he noted that Mayer moved up due to the graduation of prospects like Gunnar Henderson and Anthony Volpe, but also because of Mayer's impressive bat skills this season.
Through 30 games, the 20-year-old Mayer is hitting .312 and slugging .576 for the High A Greenville Drive.
The former No. 4 pick began the season at High A after hitting .280 between Single A Salem and Greenville last year.
On Tuesday, Mayer had the first multi-homer game of his career.
Not only has Mayer impressed with his bat, he's also one of the highest graded defensive shortstops in the minors.
In MLB.com's recent prospect ranking, which put Mayer at No. 5 overall, Mayer was given a 60 grade for both his arm and his glove.
Mayer was not the only Red Sox prospect on McDaniel's recent top 50 list.
Roman Anthony, a second-round pick by the Red Sox last year, made it to No. 49 on McDaniel's list.
McDaniel praised the 19-year-old in his piece, saying he is "among the biggest arrow-up prospects from the 2022 draft."
McDaniel expanded on some of Anthony's particular skills.
"He has one of the lowest chase and swing rates in the minors to go with the best age-adjusted exit velos in the minors, a strong bat-to-ball foundation and the athleticism to be a solid right fielder," McDaniel said. "He could stand to be a bit more aggressive and lift the ball more, but those are relatively easy adjustments."
Loading…