Linebacker coach D.J. Smith addressed the media about Ty'Ron Hopper and Chad Bailey returning to Missouri with the addition of JUCO first-team All-American Triston Newson and Chuck Hicks, who missed all of last season due to injury. He also talks about what he wants to see from Dameon Wilson what he sees in Carmycah Glass and much more.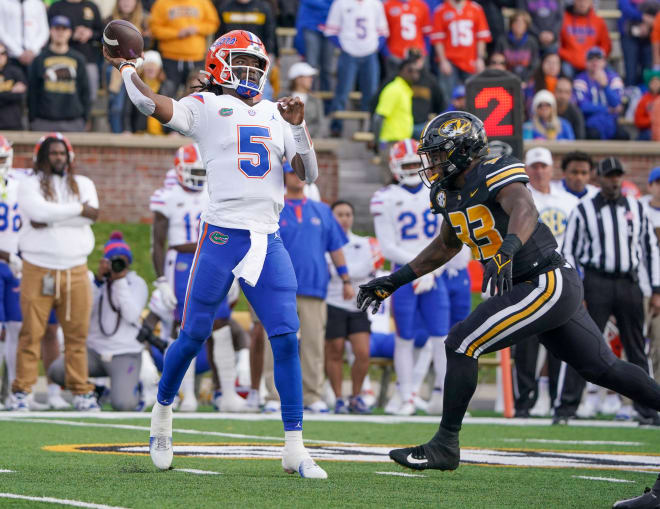 – What's it like to be back, especially when you return the key guys?
"Like I told someone earlier 一 you're talking about Christmas coming year around. I mean, it's fun to watch and it's exciting to get back on the grass and see everybody compete and see everyone work."
– In addition to getting Ty'Ron Hopper and Chad Bailey you get somebody like Triston Newson. What type of player is he on the field and what type of person is he off the field?
"On the field, he's very technical and fundamental and wants to do it the right way. He's really explosive, fast and twitchy. He has a really high "FBI" which is what we call football IQ. He's a very smart player.
"Off the field, we call him "Big Country." He has a big smile and wears cowboy boots. He's old school and easygoing. He's very fun to talk to and a great guy to be around."
– This is already a good linebacker core, but there's always room to improve. What are you looking for from this group, especially from Chad and Ty'Ron?
"I'm looking for them to take the next step with the technique and the fundamentals that we're asking them to play with and be able to take their game to the next level. Whether that's getting in position to make a play and getting an extra strike on the ball, getting in position to make a sack and getting the guy to the ground or bringing the young guys along and teaching them the defensive scheme and just being a mentor for those younger guys and bringing them along with themselves. So, that would be my biggest thing. Just the technique and fundamentals of the position where we're asking them and just bringing somebody along with you."
– What's it like to have Chuck Hicks back? Also, how would you like to use a guy like that?
"Chuck is my guy. He's a swiss army knife. He can play a multitude of spots. He's great in the room, he's great with the guys and he's great off of the field. He's someone that brings another level of leadership to the room. So, it's really good to have him back."
– When you have that versatility in addition to Ty'Ron and Chad, what does that mean for the linebacker core rotation?
"The best players will play. We're looking for the best 11. So, whether that be situational or scheme. Whatever coach (Blake) Baker, coach (Eli) Drinkwitz and I decide to do as a defense and as a team is what we will be doing. So, putting the guys in the best position to win.
– What's the next step for a player like Dameon Wilson? He played well in Chad's absence last season.Chad will graduate eventually, so what kind of hope does it give you for the future of that linebacker spot?
"The same thing. It's year two in the scheme. So, fundamentals, technique, taking it a day at a time and just getting better and just improving his functional movement skills. (Having the mindset of) 'how do I be the best linebacker in these next 15 practices?'
"It gives me good ease to know that we've got a young guy who came in as a redshirt freshman and was able to give us some real good quality reps in some games that we had a chance to win in the late seconds. From that standpoint, you know he can do it because you've seen him do it. So, now it's a matter of taking it a day at a time and then building off of those reps."
– Dameon's best game was versus Georgia. What did you see him from specifically that you liked?
"His explosiveness. He wasn't afraid to cut it loose. He was ready to roll and he wasn't afraid of the moment to say the least."
– Coach Drink challenged the offensive line to have a more physical identity, but he said right now the linebackers are doing that right now. As a coach, what does that mean to you when he says your guys are the leaders of the team?
"Yeah, I think it's a kudos to the players because at the end of the day, they have got to get out there and do it. They've got to show faith. I think it's tremendous that coach Drink recognizes us, but the job isn't done. We've got a lot of things to improve on and just try to get better a day at a time."
– What do you see out of someone like Carmycah Glass?
"He's like a Loch Ness monster. He's big, he's long, he can run. He's from Louisiana, so he's a kid that's got some grit to him and he's got some stuff that he flashes on tape. I'm very excited about his development and where he's going to be in the near future. He's eager, he wants it and he's a go-getter. He's a guy to ask questions. He comes in early and stays late. So, I would say his ability and his dedication to his craft is what I will say is his biggest attribute."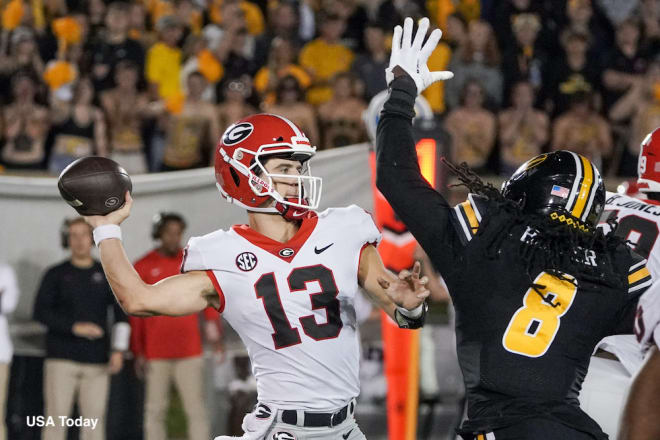 Ty'Ron Hopper
– What are your goals for this year and what do you want to improve?
"Honestly, I want to work on everything. Using my hands, better communication, just recognizing plays and formations better to play even faster and be more vocal with the team."
– How many conversations did you and former Florida teammate Tre'Vez Johnson have about him joining you in Columbia and what does he bring to the defense?
"We had a lot of conversations, honestly. When he came on his official visit I was with him and hosted him. He liked everything, he was with the staff and he loved what they were saying, so that's what got him.
"He was at Florida for three years and I watched him grow as a freshman until now. He's a very fast player, he's a hitter, he can blitz and he can cover. I feel like he brings a lot to this team."
– When you guys (the ones thinking about leaving) were making your decision did you have any communication with other players to kind of decide if you were coming back together?
"We definitely communicated with each other on those decisions and we stayed in touch about it. Some guys made their decision early and some guys made their decision late, but it was a good thing just knowing that a lot of us decided to come back."
– What does it mean to see everyone buy into another year of this program?
"It means a lot. We really feel like we can be really good and we're really comfortable with each other in the system, so I feel like we're going to be really good."
– When you got your draft grade what was your first emotion about it? Was it close to where you wanted it to be, was it too low or was it okay but something you thought could be better with another season of college football under your belt?
"When I got it I said 'okay, that's what I thought it would be,' and I feel like I could do even better and do more and improve.
– Is the grade something you'd want to share?
"No, I don't care to share it right now."
– What all went into your decision to come back?
"Everything went into it. Basically, going over it with my family and seeing things I did on film really well and things I did badly and terribly. So, we have the same staff, defensive coordinator and playbook and I trust the staff. I feel they helped me get to where I was last year and I feel they could help me take the extra step."
– How does the continuity of having so many returning players and the whole defensive coaching staff help you?
"I feel like it helps me a lot 一 it helps all of us. We already know the scheme, so now we're focusing on recognizing different things from the offenses and focusing on tendencies, so we can call the plays faster and better."
– What can guys like Chuck Hicks and Triston Newson do and bring to this linebacker group?
"They're really talented. Both move really well and they're fast. They both can cover and they're some dogs. I feel like they're going to bring a lot to the team."
Chad Bailey
– How much more comfortable are you and the other guys a year into this system with there being so much continuity in personnel?
"I'm getting pretty comfortable with it. Coach Drink work on team camaraderie and stuff like that and as a different defense as we call ourselves, we work on being real cool and hanging out outside of the facility and talking about football outside of the facility and stuff like that. So, I think we're getting real comfortable with the scheme."
– Is there anything this defense can do now that it couldn't do a year ago?
"I would probably just say play faster than we did last year. I think we played at a pretty good speed last year, but we can play even faster this year just by being more comfortable."
– Is there a particular reason for the number change from No 33 to No. 9?
"I'm going to for sure change my number to No. 9. There's no particular reason, I just wanted to try something new."
– What does getting Ty'Ron back mean to you guys?
"Ty'Ron's a good player and I think we play really well together. We both understand the assignment and we both know how we want it to get done. So, it's really big that we coming back for another year."
– Last year, you talked about having some unfinished business here. What are some individual goals you have for yourself?
"Well, first thing is staying healthy throughout the entire season. Secondly, is probably getting better at my coverage skills. It's always going to be working on stopping the run, but i want to get better at my coverage skills. Get a couple more pass breakups and interceptions. Also, work on my pass rush."
– Turnovers seem like a rallying cry for this defense. For this group, how do y'all want to go about forcing those turnovers?
"You just got to play angry every day. We've got to strike at the ball and put pressure on the quarterback and make it hard for him to complete throws and get tipped balls and stuff like that. Staying focused on the ball is the main thing."
– The warcry for this defense is to be the best defense in Mizzou history, is that what you guys have put your mind to?
"Yeah, that's our main goal right now and that's what we want to get done and we just are working towards it step by step every day. Just taking it day by day."
– What does it mean to the linebackers to have so many interior defensive linemen that played as well as they did return?
-That's huge. If you look at any great defense or team that has won a national championship they had an amazing defensive line. It's good that we got Darius Robinson, Jayden Jernigan, Kristian Williams 一 those dudes coming back and a couple of others from the transfer portal. It's always good to have a good defensive line playing in front of us."
– Was there communication between players about deciding to come back or were those decisions made for each person on their own?
"They were made for each person. I know me personally, I think the only person that I knew for sure that was coming back was Ty'Ron and that's because we talked a little bit more than any other position. So, we talked about it a little bit a couple of weeks before he actually decided he was doing that. Of course, I was hype, but everybody made that decision on their own. We also talked about it as a group 一 like dudes who were thinking about coming back. We just talked about it and was just seeing where everybody's head was at and that probably played a role in everybody's decision."
– What do guys like Chuck Hicks and Triston Newson do for this linebacker group?
"I think they're going to bring a lot of speed to the linebacker room. Those guys are real fast. Chuck is a guy I go to when I have questions just like he comes to me when he has questions. He started as a linebacker before and he knows what it takes and he gets the scheme, so I think it's a big deal.
Other profiles
Are you a displaced corporate executive or wanting to put your career in your own hands? Or are you an experienced entrepreneur wanting to diversify? Well, Andy Luedecke can help! Andy is a long time business owner, franchise consultant and franchise veteran. Using his expertise, he helps others find franchises that fit their DNA, so to speak. Call Andy, put your life and career in your own hands. His services are 100% free, so what do you have to lose?!! MyPerfectFranchise.net