Offensive coordinator Kirby Moore talks about what he likes about Jake Garcia, the wide receiver group, installing the offense and much more.
Wide receiver Mekhi Miller and right guard Armand Membou talk about building on their solid 2022 true freshmen campaigns.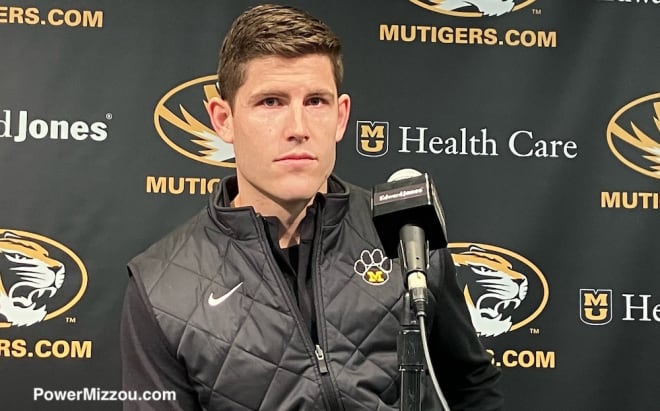 Coach Moore
– What's it been like coming in and seeing this deep wide receiver room?
"It's awesome. Sometimes my eyes naturally gravitate towards them in terms of watching those guys and coach (Jacob) Peeler does a really good job. I think for Luther (Burden III) the slot has been great. He's done a really good job in terms of defining his routes, being on the same page and getting yards after catch. So, I'm really excited for him."
– What have you seen from Luther in the slot that gets you excited?
"Well, when you think about slot receivers there's a certain burst and quickness. He does a good job at the top end of his routes and hand-eye coordination. He makes some tough catches over the middle. He's a bigger slot. Sometimes people play smaller slots, but I would argue if you have a bigger slot he has more catch radius and the quarterback can see him. I've played with and maybe coached slots that are a little bit smaller and you'll have the quarterback come off of the field and say he couldn't see him. I don't think we're going to have that situation because in terms of his ability to win and just being able to have a larger catch radius over the middle."
– What do you think about when you watch the quarterback group right now? Is it just waiting until the fall when this is really going to be decided?
"Yeah, it'll carry over into the fall, but it's unique with Brady (Cook) and Sam (Horn). They're taking as many mental reps as they possibly can behind the offense and seeing it from that perspective, but there's no substitute for live-game reps. For Garcia, Dylan (Laible) and Tommy (Lock), they're getting a ton of really good work learning the offense. In terms of being able to compete against a really good defense and make some mistakes and 'ah, I can't fit that ball in here, I've got to check it down.' So, I think in terms of the first three or four practices there's been a lot of growth."
– At Fresno State, you had a slot wide receiver, Jalen Cropper, who got over 1,300 receiving yards, is that something you think Luther can replicate?
"Naturally, the slot has been a highly targeted receiver within the offenses I have been a part of. So, whether that's individual, whether that's the matchups, whether it's the first read in terms of the progression 一 there's a number of different reason why I think he's going to have a big year."
– What have you seen from Jake Garcia in the handful of practices y'all have had?
"I think he's done a good job in terms of getting the ball out of his hands quickly, he's elusive in the pocket and has the ability to extend plays. So, that's been impressive. Our defense does some good stuff and some pressure. So, I think in terms of him showing up on Jan. 20 and being where he's at right now 一 he's in a good spot. Does he need to continue to grow though? For sure."
– Defensive coordinator Blake Baker said in year one he had to keep the defense simple so players could understand it. However, do you feel because Eli Drinkwitz is an offensive-minded head coach you can get in your bag more when it comes to the scheme and teaching the players?
"There's a little bit of that, but at the same time, you've got to reel yourself back in. It all comes back to reps, and that's the best way in terms of learning the concept. Whether you're walking through it and then running it against a defense a number of times not just once 一 that's where the fine line in terms of how much you're installing every day. You might run into all these different looks too which is going to help in terms of that process for the quarterback, skill guys and everybody involved."
– What have you and tight ends coach (Eric) Link talked about as far as how you guys want to use that position group?
"I would say I'm still trying to learn our personnel and their strengths and weaknesses. I don't want to pigeonhole in terms of whether we're going to use this guy that way or this guy the other way. I have been impressed in terms of their willingness to block, hand-eye coordination and getting to the right spots in the pass game."
– What have you seen from wide receiver Theo Wease?
"I think Theo has done a nice job. He's got more 一 to his credit 一twitch than I anticipated which is a good thing. He finds ways to separate within the concept, so he's going to have the ability to move around with his experience playing college football and just understanding the concepts. That's a positive for us."
– Where does this wide receiver room for you on paper?
"That's to be determined. I don't want to throw out something 一 we've got a lot of work to do through spring ball, the offseason and fall camp. Is there a lot of potential? Definitely, but we've got a long way to go.
– How often do you and your brother (Los Angeles Chargers offensive coordinator) Kellen Moore talk about football?
"There's definitely some normal life stuff and everything, but I'd be naive to not pick up the phone when I've got a question about a concept or something that he's doing offensively or how we're coaching something. So, it is what it is. My dad coached high school football for a long time. It's how our family kind of operates. There are a lot of football conversations."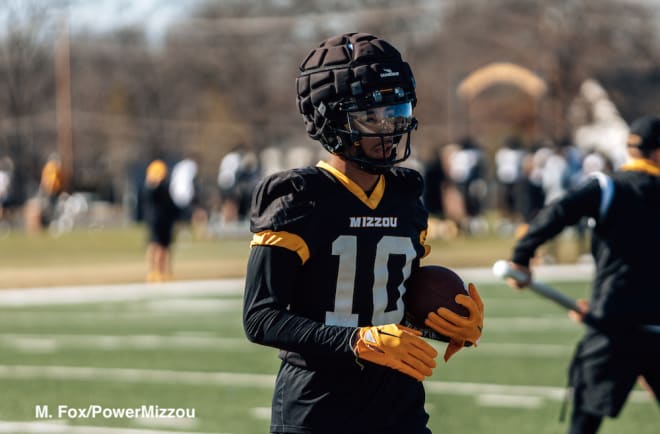 Mekhi Miller
– What are you expecting out of yourself from spring ball?
"Just to get better. I'm also looking forward to getting them (the other wide receivers) better as well because we push each other every day to get better. That's why I'm looking forward to the competition, so we can all get better."
– As a true freshman, it seemed like when your number was called and the team needed a play you made it. So, what is your confidence like going into this season?
"I definitely have a lot (of confidence) because I was able to do what I did last year, but I've also got to tone it down a little bit. I can't get too ahead of myself because it's a new year and I've got to rebuild. I've just got to get to the point where the coach is trying to build up my trust and be able to be put on the field."
– What do you feel the wide receiver group needs to work on collectively?
"Explosive plays, getting downfield and just getting into the endzone so we can win games It's real simple, get open and catch the ball and then go score. As long as we do our job, the offensive line does their job, the quarterback does their job, the running back does their job and everyone does their 1/11 we will be good."
– What are individual goals you have for yourself this season?
"I haven't thought that far yet. Right now, I'm focused on this spring and finding ways to improve myself right now, and whenever the time comes I'll take care of that (the individual goals)."
– What's the biggest difference between this scheme compared to last year's?
"It's different. We've got a lot of newer terminology. Some of the concepts are still the same with a little of the same terminology, but terminology is really the biggest difference from last year. because you've got to retrain your brain from what you already know and it's a habit so you've just got to learn the new stuff."
– In spring ball, a lot of different quarterbacks are throwing you the ball, so how is that trying to build a relationship with each quarterback?
"I think it's fine. It benefits everyone and you build that connection with every quarterback, so whatever situation you're in you've already built that connection."
– What's your connection with Jake Garcia been like so far?
"It's good. I catch a good amount of footballs from him. I'm right next to him in the locker room. So, we just talk a lot and always make sure we know the plays before practice."
– Here's a fun question. If you could pick three permanent rivals for Missouri to play who would it be?
"Ah man I really don't care. I know the fans like Arkansas a lot because I see it on Twitter. Outside of them I really don't care. I like to go out there and have fun."
– So, what team would you say gave y'all the edgiest game last season?
"I don't know. It's definitely fun because when you have those rival games things get a little bit chippy. It definitely makes the game level a little higher. It's fun. It's not too bad."
– But you wouldn't say you have a team where you definitely feel like there was a little more to it? For example, Brady Cook and Martez Manuel were a little more outspoken about Kentucky being a rival.
"Not really because it was my first year and I didn't really know anyone, so I didn't have no beef with anybody."
– But did you experience it (the rivalry Cook and Manuel alluded to)?
"A little bit. Arkansas a little bit. Surprisingly, New Mexico State was a little bumpy. Other than that I don't think I experienced much chippiness. I wasn't really much of a talker, so I didn't really get into it anyway.
– Do you think you'll be more of a talker this year?
"I might. We'll see."
Armand Membou
– As a true freshman you made a lot of noise with your play, but now people are starting to recognize you and have expectations. How do you deal with the pressure and expectations people are putting on you?
"I wouldn't say there's pressure. I'd say I'm living my everyday life. A lot of stuff happens on the internet, but I just live my life."
– How do you feel about moving inside? Do you think that's a more comfortbale fit for you?
"Yeah, I'm pretty excited. I've had a lot of fun so far in the first few practices. It's just a little different because everything is a lot closer, but it's still football as an offensive lineman."
– Was that move inside something you voiced to the coaches or did they say that's something they needed you to do?
"I think they know I can, so it was their decision."
– Going into the spring what are you trying to improve?
"I mean obviously my overall play just playing faster, stronger and more physical. Also, little things like my posture in pass protection and my footwork are the two biggest things."
– Usually, true freshmen aren't starting on SEC offensive lines. To do that last season, where is your confidence now?
"The first time going into the game was crazy, but I think the coaches did a pretty good job with my transition to college and getting me right. So, by the end of the season, I built up a lot of confidence. I know going into next year I've already done this before, so I'm going to be able to do it again."
– How does it feel when the head coach is saying he regrets not playing you more last season?
"Well, he's already told me that, but it definitely does give me some more confidence that he trusts me. So, I really appreciate him saying that."
– Xavier Delgado said he has a number of younger offensive linemen that he's trying to take under his wing including you. What do players like him and Javon Foster mean to you?
"Yeah, it means a lot, especially my transition coming out of high school. Those dudes using their experience and just giving me little tips and tricks that they've learned along the way, so it's helped me a lot."
– What's the hardest thing about learning a new scheme?
"Football is football, but it's the fact that you've got to learn the new name plays and everything. So, you've got to train your brain to not think about the old offense."
– Is it easier to learn because the entire offense is learning a new scheme?
"Yeah, it definitely helps because I'm not the only one like last year. Everyone's going through it. So, it's been cool."
Other profiles
Are you a displaced corporate executive or wanting to put your career in your own hands? Or are you an experienced entrepreneur wanting to diversify? Well, Andy Luedecke can help! Andy is a long time business owner, franchise consultant and franchise veteran. Using his expertise, he helps others find franchises that fit their DNA, so to speak. Call Andy, put your life and career in your own hands. His services are 100% free, so what do you have to lose?!! MyPerfectFranchise.net