Share this article paywall-free.
TUMWATER — The bluebird skies that served as a welcome mat for prep golfers on opening day of the 1B/2B state golf tournaments turned to a vexing battle with the wind and fatigue on Wednesday. That didn't stop the Wahkiakum contingent from netting a team championship in the girls tournament, with junior Avrey Wiltse-Hiatt mustering a Top-5 performance for the Mules herself.
Wiltse-Hiatt finished Day 1 in fourth place after carding a round of 88 and hitting the hay Tuesday night 11 shots off the lead. A tough start out of the gate on Wednesday put the lead Mule behind a bit but recovered down the stretch to stay in top fourth of the leaderboard.
"She turned it around as much as she could on the back," Wahkiakum coach Andrew Weiler said.
"She had a couple of bad holes, but you take those two or three bad holes out of it and she shot an amazing round."
A second day score of 91 left Wiltse-Hiatt on 179 for the tournament and in fifth place overall. Naomi Molitor of Almira-Coulee-Hartline finished on 175 to place fourth, while Makenna Kelpman of Sound Christian won the whole deal with two-day total of 152.
Last season Wiltse-Hiatt set a goal of finishing in the Top-10, and accomplished her goal by placing ninth. This season, according to her coach, she set a goal of finishing in the Top-5, and once again checked off her goal.
"She met her goals. That's what's important to me is these kids growing, developing and having fun," Weiler said.
Wahkiakum's Brodie Avalon, a State alternate himself, continued to fill the role of assistant for the Mules and stuck by Wiltse-Hiatt's side for a second straight day. Between the two of them the Mules were able to navigate the shifting jet stream while finishing eight shots ahead of sixth place.
"I don't think she had a bad 18 holes. She just had a few holes that she struggled on, but she kept playing her game," Weiler said. "She had good guidance while she was out there."
Having proved her ability to climb the leaderboard, it would appear Wiltse-Hiatt has but one goal left to achieve; a State championship in 2024.
According to her coach, that's not a far-fetched idea. And now that Witlse-Hiatt has picked up a job at a local golf course she'll seldom have a need to leave.
"It's a realistic goal, but again, she is putting in the work," Weiler said. "You could work anywhere as a high schooler but I think the way her mind is working is, 'I want to live, I want to eat, I want to breathe golf."
Wahkiakum's Brie Cothren was also instrumental in bringing the team title back to Cathlamet. The 8th grader backed up an opening round score of 99 with a round of 107 on Day 2 that left her in 17th place overall.
"She was the reason why we got first at State," Weiler noted.
Weiler spent his day walking with Cothren and came away enthused about the future of golf in the state's smallest county. He noted that Cothren has a natural ability to pound the ball and insists that once she finds a bit more consistency she'll be a force to contend with.
"I would say she hits the ball long. She hits the ball far. When she connects, it carries," Weiler said. "She's got a natural inclination to hit the ball efficiently."
Ilwaco also had reason to celebrate when Zoey Zuern managed to leapfrog Cothren into 15th place on the final day. After finishing on 100 in the opening round Zuern carded a 102 on trophy day to move up several slots.
Wahkiakum's Jessie LeFever competed on Tuesday but missed the cut. After walking with LeFever on Day 1, her final tally of 121 didn't do much to dampen Weiler's enthusiasm for the freshman's future on the fairways.
While the Mules' coach complimented LeFever's short game and her ability to connect well and with good distance, those weren't what he came away most impressed with. Instead, it was the dialogue they were able to have and LeFever's eagerness to learn in her first year playing the sport that left Weiler most looking forward to next season.
"I'm not the reason for her success, or any of the girls' success. I'm a conduit. I drive them. I make sure they're eligible. I do all of the ancillary things to set them up for success but ultimately it's up to them."
On the boys side the only local participant on Day 2 was Cooper Hahn of Kalama. After finishing in 19th place on Day 1 with a round of 85, Hahn saw the winds of fortune shift on Wednesday when he carded a 91.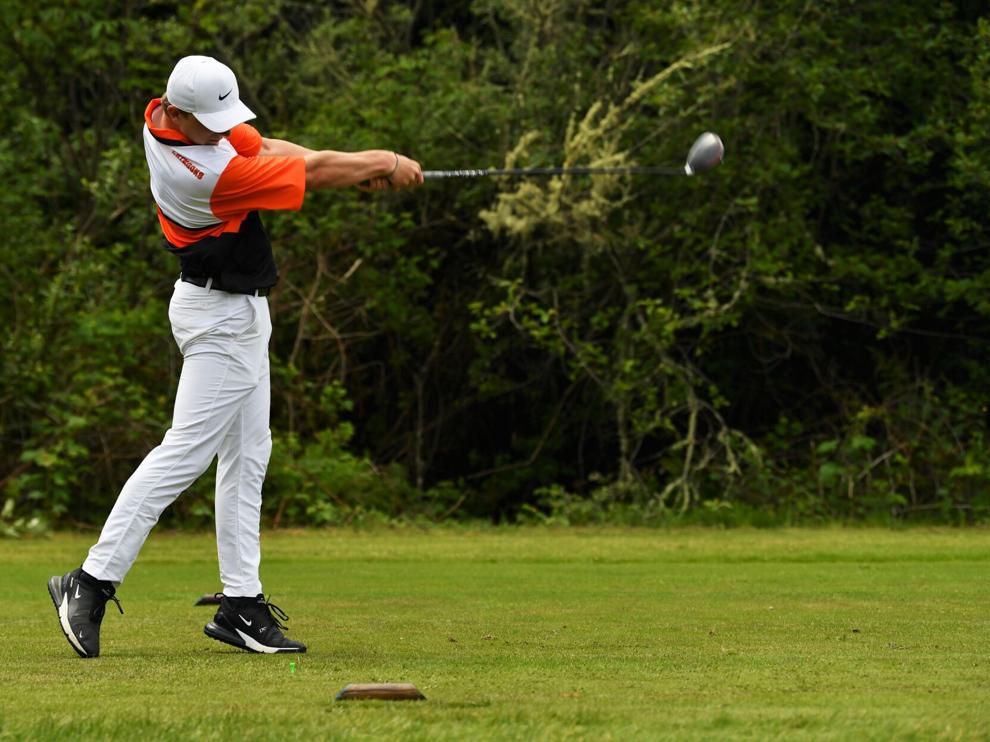 That chaotic barometer had Kalama coach Jerry Sager waxing poetic about the good old days of, well, yesterday.
"Everything was nice and calm. Well today we had the wind. It was hectic and it was swirling, too," Sager noted. "Coop had a really hard time picking the right club. He'd be short one and then long on the next one."
After putting up a solid score of 42 on the front nine Hahn's efforts were a bit more tattered down the back nine. That change in momentum started with a double bogey on No. 10 and continued more or less the rest of the way.
After posting a triple bogey on No. 10 on Tuesday, Hahn may be seeing that hole in his nightmares for months to come.
"Today was just one of those days; really it wasn't even one of those days, it was just nine holes," Sager said. "If you golf you know sometimes it gets to where you can't even hit your butt with both hands."
Still, it's unlikely that Hahn's prep career will come to be defined by those nine holes. As a junior, he's got one more chance to run it back, and with a driver that plays long and true he's a little wedge work from making a real run at the top next season.
Moreover, as Sager pointed out, simply making the cut was a success this season for Hahn.
"It's the first time he's been there and he played well for 27 holes, he just didn't quite finish it, but he will," Sager said.
Ilwaco's Westin Billeci (100) and Wahkiakum's Sebastian Britt (99) also competed in the boys tournament but did not make the cut on Day 1.
With Britt, a senior, having signed his final scorecard for the Mules, his coach was in a mood to look back in time while also keeping an eye on the future.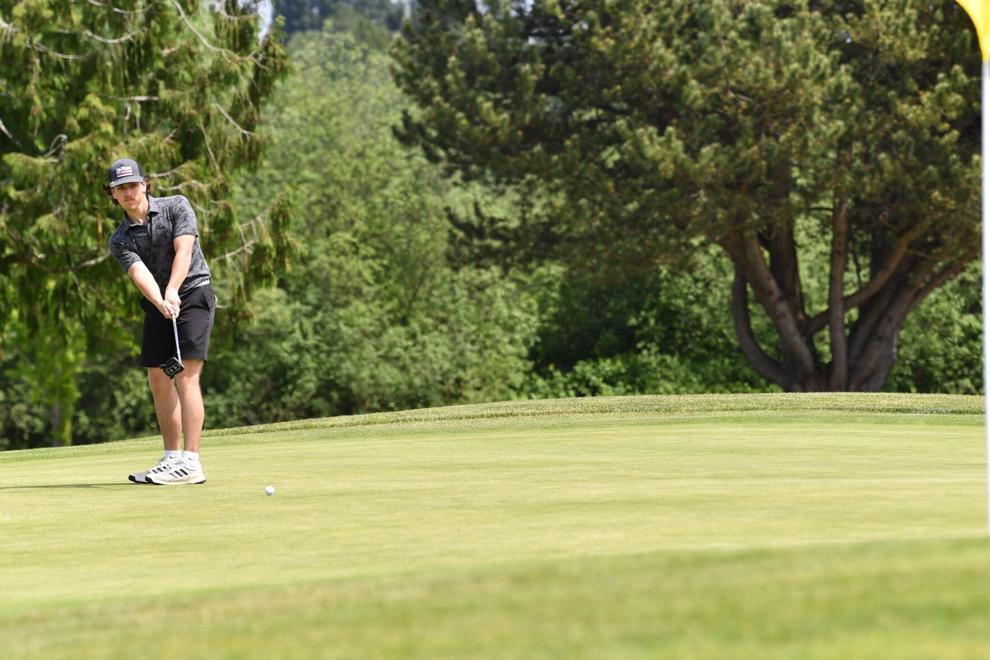 "The program has been strong since it started in 2006," Weiler said. "To have this kind of outcome, especially with the girls; the program started with a predominantly male turnout so the fact that the girls are leading the charge on this is so impressive. I'm looking forward to using this momentum to the best of our ability."